SocialPhone from PhoApps apparently wants to replace every other piece of software on the iPhone. You can manage your contacts, phone calls, texts, e-mail, and social networks directly from within the app. When SocialPhone works, it mostly works well, but the app is also vulnerable to crashes that can dim a user's enthusiasm.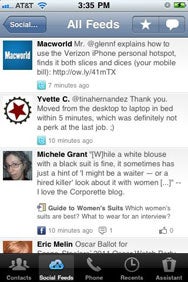 Contacts are at the heart of SocialPhone. The app imports your phone's contacts list, and can automatically merge it with information about your friends and acquaintances on Facebook and LinkedIn. (Twitter info can be manually added to each contact, though the process is more cumbersome.) Thumb-swipe a contact's name, and the app shows you their latest social network posts—and offers the option to call, text, or e-mail them. The app also lets you sort contacts into groups, a feature unavailable in the iPhone's native Contacts app.
You can check each social network feed individually, or grouped together. SocialPhone also lets you post to each simultaneously, though you'll be limited by Twitter's 140 characters. The result is a boon for users who weary of having to flip between apps.
There are some shortcomings to SocialPhone. A feature that tries to read business cards doesn't really get the job done—you're better off adding the contact info manually. Initiating a call takes you out of the app, and requires you to return manually. (And you won't receive calls, texts, or e-mail through the app.) Most frustrating, though, is SocialPhone's tendency to crash, which it did repeatedly during my tests in different situations.
But SocialPhone is worth a download. In a world ruled by Facebook and Twitter, it's a wonder Apple hasn't implemented these features on its own.
[Joel Mathis is a freelance journalist and political columnist for Scripps Howard News Service. He lives in Philadelphia.]