Mariner Software has released Paperless 2.0, the latest upgrade to its comprehensive digital document management software for home and business.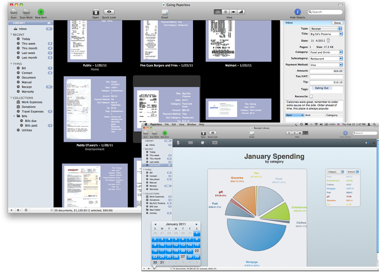 Formally known as ReceiptWallet, Paperless lets you scan or import receipts and other paperwork, using Optical Character Recognition (OCR) and other data entry tools to help recognize and categorize receipts and documents as PDF files. The software also features built-in search capabilities for finding and organizing receipts and documents into collections, as well as tools for tracking expenses for taxes, creating searchable PDF files for owner's manuals or other documents, and more.
Paperless 2.0 includes various new features, including the ability to create expense reports, pie charts, and contact reports. You can also now create custom field types, like text, currency and checkboxes. Data entry has also been made easier with automatic matching of thousands of popular U.S. Merchants.
The software also now supports a wider variety of scanners through Apple's Image Capture, as well as expanded use of Fujitsu's ScanSnap scanners.
Paperless 2.0 requires an Intel Mac running OS X 10.5.8 or higher and costs $50 for new users or $25 for the 2.0 upgrade.