At a Glance
Expert's Rating
Pros
Ergonomically comfortable body with textured hand grip, recessed on/off button, mode dial, and control wheel
Improved 14-42mm f/3.5-5.6 Zuiko MSC zoom kit lens
In-body image stabilization
Manual exposure and art filters in movie controls
Accessory Port 2 for expanded functionality
Built-in wireless flash control
Cons
No built-in external mic jack—must buy accessory port adapter
Complex menu system
Limited to AVI movie format (Motion JPEG OpenDML)
Our Verdict
Olympus is putting a lot of energy into its Micro Four Thirds product line, and the PEN E-PL2 digital SLR demonstrates that the company has no plans to rest on its laurels. Even though it has stayed with the 12.3-megapixel Live CMOS image sensor that we see in other PEN cameras, Olympus has redesigned the body of the E-PL2, improved the LCD, upgraded the accessory port, retooled the kit lens, and introduced a handful of creative accessories. The result? A camera that is fun to use and also takes great pictures.
Features overview
The E-PL2 features a 3-inch LCD with 460,000 pixels, 720p HD movie capture, the latest-generation TruePic V Image Processor, an SDHC- and SDXC-compatible memory card slot, and four color choices for the body: red, silver, white, or black. Additionally, the new Zuiko 14-42mm 3.5-5.6 II MSC kit lens has improved autofocusing.
As with its predecessor, the PEN E-PL1, you also get in-body image stabilization, a pop-up flash (now with wireless flash control for certain Olympus flashes), and an effective dust-reduction system. Olympus has enhanced the Live Guide controls so that you can see the way a picture will look before you actually press the shutter button. All LCDs with Live View can preview the image for you. With Olympus's Live Guide, you also have specific controls in plain English, such as "make brighter" or "make darker," that you can see on the LCD as you're moving the slider.
There are 22 Scene options, such as Sunset and Children. But if you want to let the camera do the choosing, you can use the iAuto mode, and the E-PL2 will do its best to identify the scene and choose the right setting. If you're feeling creative, select from one of the six included art filters to create in-camera effects.
Fun accessories
Olympus has created a lot of its own accessories, including three conversion lenses: fish-eye, wide angle, and macro. The company believes that it's more affordable for users to expand their optical choices than to buyi specialty Micro Four Thirds mount lenses. If you decide to try the macro accessory lens, be sure to get the MAL-1 macro arm light. It's a pair of LED lights for close-up work that draws power from the accessory port to provide illumination. And finally, the Bluetooth-powered PENpal accessory can transfer images directly from the E-PL2 to a variety of devices. More on that later.
Olympus has changed the battery and accompanying charger that ship with the E-PL2 to the newer BLS-5 lithium-ion cell. It's the same size as the previous BLS-1 used in the other PEN cameras, but it has four contact points instead of three. It's also rated at the same 7.2V/1150mAh as the older batteries. I tested the BLS-1 in the E-PL2, and everything worked fine. So if you have batteries already, they will work in the new body.
Using the E-PL2 with a Mac
If you shoot JPEGs and upload to iPhoto or Aperture, you'll probably be quite content with the images you see on the screen. If you switch over to Raw mode, however, you won't be able to process or view your files on your favorite Apple photo applications until Apple adds support for the model to Mac OS X via a Digital Camera RAW update. The wait shouldn't be long, though; previous PEN models are all supported in Aperture 3, and I expect the same for the E-PL2.
When shooting video, the E-PL2 captures its 1280 by 720 files at 30 frame per second (fps) as a .avi file (Motion JPEG OpenDML). Aperture and iPhoto support this format, as does QuickTime Player. However, the AVI format does have some standard limitations, including a 2GB recording cap that limits HD movie clips to 7 minutes.
Set up the Bluetooth PENpal for your Mac
Things get a bit more interesting for Mac users with the addition of the $79 PENpal PP-1 Bluetooth 2.1 accessory (not compatible with earlier PENs). The PENpal slides into Accessory Port 2 and enables you to send images to compatible devices, such as laptops and Android phones. As of this writing, the PENpal is not compatible with iOS devices such as the iPad. I was, however, able to transfer files to my MacBook Air and MacBook Pro.
I've read a few reports that some Mac users had difficulty figuring out how to set up this connection, so here is the method that I used:
Insert the PENpal into the accessory port, then go to Menu on the camera's LCD screen.
Scroll down until you get to Olympus PENpal Share, and click OK.
Scroll down until you get to Address Book, and click OK.
With the E-PL2 menu still open, go over to your Mac and open the Bluetooth pane in System Preferences.
First, click on the Sharing Set Up button, and select the Bluetooth Sharing box. Also choose Accept and Save from the Receiving Items pop-up menu. Then click the Bluetooth Preferences button to return to the Bluetooth setup.
Click on Set Up New Device. It will look for the PENPal. While your Mac is doing this, return to the E-PL2's menu.
On the camera, scroll down to New Paring and click OK. The PENpal will search for compatible devices.
At this point, all the devices, including the camera and the Mac, should see each other. You'll get a Select Destination message on the E-PL2 and an approval message on your Mac. Click OK on both devices while they're talking. If when doing this your timing is off, no worries—just try it again.
Now the two devices should be in contact and able to transfer images. One thing that I like to do to fine-tune the workflow is to designate a folder on my Mac to receive the transferred files from the E-PL2. Go back to System Preferences, click the Sharing preference, click on Bluetooth Sharing (which should be checked), and set the folder you want in the Folder For Accepted Items pop-up menu. The images you send from the E-PL2 will go directly to this folder.
Now, to send a picture to your Mac, browse the images in playback mode on your E-PL2. When you see a shot you like, press the OK button, and scroll down the menu that appears until you get to Send A Picture. Click on it, and you'll see your paired Mac in the next menu. Click OK, and the image will be sent. Click OK again on the E-PL2 to return to Playback mode. It's that easy, and it's very fast.
You can send three picture sizes from the PENpal: Small (640 by 480), medium (1280 by 960), and large (1920 by1440). You can't send videos or full-size raw files or JPEGs. I've been using the medium size for images that I'll then push up to Flickr or my blog.
Once you get the hang of this workflow, it's really a timesaver. You only have to set it up once; after that, you just choose a picture and send. You can even have multiple computers in your pairing menu and choose which one to send to. Combined with the in-camera editing tools—shadow adjustment, cropping, black-and-white conversion, sepia toning, and saturation—the PENPal makes it easy and quick to shoot, edit, and upload images to your Mac.
Use the E-PL2 with an HDTV
The E-PL2 includes a mini-HDMI port that enables direct connection to an HDTV or other HDMI-compatible device. This is a terrific way to view images and movies. You have some basic controls via the camera, such as zoom. If you play a slideshow, the E-PL2 includes a handful of soundtracks to accompany the pictures. The overall presentation looks and sounds terrific. Just make sure you purchase an HDMI to mini-HDMI cable to get things started.
Image quality
Image quality for the E-PL2 is about the same as that of the other PEN models. The camera produces excellent JPEGs, with crisp color and good detail. Even though this model adds an ISO 6400 setting to the menu options, stick with ISO 1600 or below for best results. In our lab's subjective image tests, the E-PL2 received a word score of Very Good for Exposure and Distortion. It received a word score of Good for Color and Sharpness. Click on any of our lab's test images to view them at a larger, original size.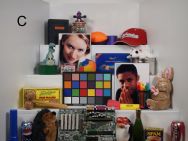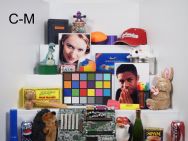 Video quality is quite nice as well, given that it's 720p and not full 1080p HD. In our subjective lab tests, the E-PL2 received a score of Good for video and audio quality. Here are sample AVI clips that we shot in bright indoor lighting and in low light with the E-PL2. For the highest-quality clips, select 720p from the drop-down menu in the lower right corner of each player.
Software
For bundled software, you get Olympus Viewer 2 on a DVD (version 1.11). It's easy enough to install, but it does require a restart. Once you have the application loaded, you can browse files from the E-PL2 and process raw image files—useful for iPhoto and Aperture users who need a way to process raw files until Apple adds support for the camera. There are some nice controls here for raw shooting, such as noise filter, false color suppression, and aberration control. You can also apply art filters in post-production, which is a thoughtful touch. And you get most of the standard controls you'd expect, such as white balance and exposure.
Drawbacks
Even though the on-board stereo microphones do a decent job of recording audio in movie mode, I'd like to have a stereo mini-jack on the camera itself. Olympus does offer an accessory port adapter, but that costs extra, requires another device to manage, and occupies the hotshoe so you can't use it for other accessories, such as a video light.
From a Mac perspective, I'd like to see a different video codec than the AVI format the E-PL2 currently uses. Compared to the .H264 codec we see on Canon cameras, the AVI files seem a bit outdated.
And finally, an ongoing Olympus bugaboo is a menu system that can intimate even the most tech-savvy photographer. For a camera that's designed to lure snap shooters away from their compacts, the interface still feels a bit rough.
Macworld buying advice
The Olympus E-PL2 is a compact, versatile camera that can be pleasing to just about anyone who loves taking great pictures without lugging around pounds of gear. Combined with a good lens selection from Olympus and Panasonic—with other manufacturers soon to join the Micro Four Thirds standard—this is a system that can grow with your needs. And for travelers, the E-PL2 could very well be the lighter replacement for a bulky DSLR.
[Senior Contributor Derrick Story teaches iPhoto on Lynda.com and runs a virtual camera club at thedigitalstory.com.]