Baseball is just around the corner and thanks to the newest versions of Major League Baseball's iOS offerings, you can stay up to date on every pitch and swing until Opening Day. Now if Cracker Jacks and Planters would just release apps of their own, you could save a bundle on season tickets.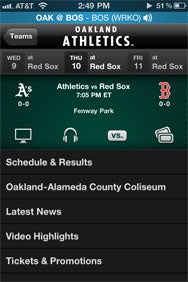 MLB.com At Bat 11 has arrived on the App Store in iPad and iPhone versions. These new offerings are the 2011 season editions of the MLB-sponsored apps that have been delighting iOS device-toting baseball fans the past three years.
To whet your appetite for the coming season, At Bat 11 is offering a free preview of MLB.TV live streaming. You'll be able to watch around 150 spring training games on your iPhone, iPod touch, or iPad. That's just a teaser, though—when the first pitch is thrown on Opening Day, you'll need an MLB.TV subscription, which lets you watch live video of games on your Mac in addition to your iOS device. (An MLB.TV subscription starts at $100, with a premium subscription available for $120.)
Other changes in the 2011 edition of MLB.com At Bat include a customizable home screen for the iPhone/iPod touch version that lets you designate your favorite team. The iPhone and iPad also promise an enhanced video library of players and teams, breaking news out of the Cactus and Grapefruit leagues, and schedules and stats for every team in the league.
MLB.com is promising additional features and functionality at the start of the season, though it declined to provide specifics.
Both the iPhone and iPad versions of MLB.com At Bat 11 cost $15.