As Macworld senior contributor John Gruber has written, Twitter apps are a designer's playground—while all Twitter apps look and function similarly, each offers its own take on the best way to present (and compose) 140-character missives. YourHead Software's take, better known as Kiwi ( Mac App Store link), is worth a look.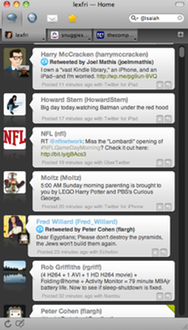 For starters, Kiwi offers plenty of customization options. The app comes packed with ten themes, and you can download more from Kiwi's Website. I especially like iWik, which is built-in, and Soft Spoken, which isn't.
Kiwi also makes good use of tabs. It lets you work with multiple accounts, browse saved searches, and even display saved profiles (which show all the tweets from, and replies to, a specific account) in a single, tabbed window. If you prefer to see multiple views simultaneously, you can tear off tabs into their own windows.
You can even combine multiple accounts, searches, and profiles into a single tab. This option will be especially appealing to folks still mourning Twitter's change in @mention behavior from a couple of years ago. That change prevented users from seeing replies sent by people they follow to people they don't follow. Kiwi's ability to combine views works around the change—by combining Twitter profiles with your main account, you can see every tweet sent by specific individuals of your choosing.
Kiwi offers other clever innovations, too. When you click a user's avatar, a profile window flips down, using a slick animation, to display details about the user in question. The app also lets you create filters—which Kiwi calls Rules—that you can use to highlight, stylize, or hide specific tweets. You might, for example, choose to hide any tweets that include the phrase "Dallas Cowboys," or to highlight tweets that mention Steve Jobs.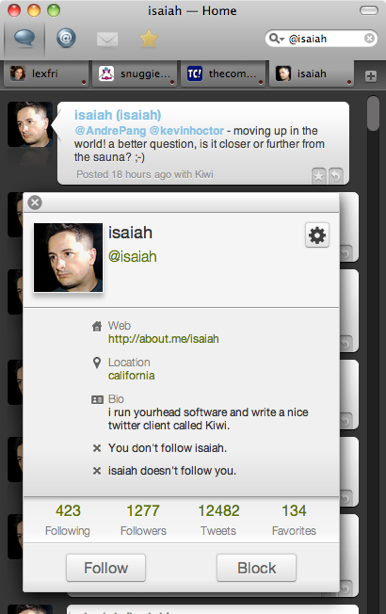 As smartly implemented as much of Kiwi's interface is, some of the design choices are frustrating. For example, when you double-click a reply message to see a full conversation, that discussion thread opens in a new tab; I'd rather see those conversations inline (as you can in previous Gem YoruFukurou), instead of in another tab I have to remember to close. I also could find no way to navigate directly to a user's profile in the app; I ended up using the app's built-in search feature to look for mentions of a given username, and then clicking the name there.
Also, once you've accessed a user's profile, you can view that person's recent tweets within Kiwi, but if you click the Favorites link to view that user's favorited tweets, you're instead taken to the Twitter.com Website in your default Web browser. I also found Kiwi's approach to Direct Messages a bit messy—the messages appear in a chronological list, rather than organized by correspondent as they are in Twitter's official app.
Those complaints aside, Kiwi does plenty right. I tend to rely on the official Twitter Mac app, but when I do, I miss many of Kiwi's niceties—particularly the themes, rules, and unique combination tabs. If Kiwi could improve its conversation view and profile browsing, it could easily steal the Twitter app's spot in my Dock.