Editor's Note: The following review is adapted from Five Star Apps: The Best iPhone and iPad Apps for Work and Play by Glenn Fleishman. (2010, Pearson Education and Peachpit Press).
The free TeamViewer app (on the iPad, it's called TeamViewer HD) works with desktop software of the same name for Mac OS X, Windows, and other platforms to provide remote access to a desktop. The desktop TeamViewer works as both a server and for remote access; the app is for remote access only. It's easy to use and flexible. The iOS version provides a great window on other machines. (TeamViewer cannot provide remote access to view an iOS screen, however.)
You can install TeamViewer on a computer with essentially no configuration. TeamViewer lets you set up an account to create the equivalent of buddy lists (it calls buddies "partners"). The no-account approach differs from LogMeIn Ignition, which requires setup at LogMeIn.com first. (LogMeIn likewise provides free and paid versions of its software for Mac OS X, Windows, and other platforms.)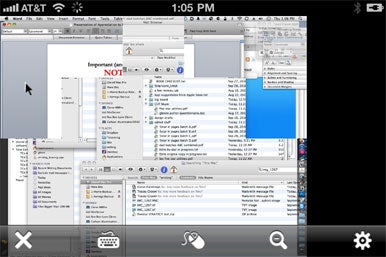 Launch the app and you can start a session in one of two ways. In the Connect tab, enter a code number and password set by the desktop software that can't be changed. Or you can use the Partner List, where you log into a TeamViewer account and can see and connect to machines that are part of your partner network. Your partner list includes computers you've added to your own account.
In either case, once a connection is made, the remote screen appears. As with similar apps, you have access to a virtual keyboard and mouse, as well as special function keys. Shake your device to swap between monitors if the remote device has more than one display. Pinch and expand works for controlling what you see within the frame of your device.
The company offers free versions of this app for when you're engaged in what TeamViewer calls noncommercial use; it relies on the honor system for enforcement. Otherwise, there's a $100 version for commercial use called TeamViewer Pro as well as a $140 TeamViewer HD Pro version for iPad users. Corporate licenses are quite expensive, but are priced for each active user's desktop, with no limits on many kinds of remote access.
[Glenn Fleishman is a senior contributor to Macworld.]