The arrival of Apple's latest MacBook Pro models brings a brand new peripheral-connection technology from Intel— Thunderbolt—and with it the promise of faster data transfer speeds. But if Thunderbolt's going to deliver on that promise, peripheral makers will need to deliver products that take advantage of that technology.
A smattering of companies have already unveiled products aimed at making the most of Thunderbolt. A few other that Macworld spoke to aren't revealing their plans just yet, though they did express interest in what the new technology has to offer.
To review, Intel developed Thunderbolt in conjunction with Apple. The connectivity technology will transfer data between host devices and external devices at speeds of up to 10Gbps. At that speed, you could transfer a full-length high-definition movie from an external storage device to your Mac in less than 30 seconds.
With Thunderbolt ports included in all new MacBook Pro models, the technology will soon be in the hands of consumers worldwide. And in a few cases, they won't have to wait too long for Thunderbolt-ready peripherals.
Intel and Apple had barely broken the news of Thunderbolt's arrival Thursday when RAID storage supplier Promise Technology announced its own plans for the connectivity standard. The company praised Thunderbolt's speed and "amazing flexibility for connectivity to high-performance peripherals" when announcing its own Thunderbolt-compatible high performance hardware RAID offering, Pegasus. Set for release in the second quarter of 2011 and designed for media and entertainment customers, Pegasus will feature two Thunderbolt ports and will be available in 4-bay and 6-bay aluminum enclosures with up to 12TB of storage.
"Once we were approached [by Intel] about this, it was a no-brainer," Promise product manager Billy Harrison told Macworld. "The performance, with 10 Gigabits, dual channel, bidirectional…that's extremely appealing."
Harrison sees a lot of potential for Thunderbolt in the portable market. "We're even looking into releasing carrying bags for the Pegasus, since the main launch vehicle is the MacBook Pro," he added. "People with small, mobile studios who use Final Cut, Adobe Photoshop, Maya 3D and other popular bandwidth intensive applications stand to benefit a lot from this technology."
Along with Pegasus, Harrison noted that Promise has another Thunderbolt-compatible product in the works as well, though specifics aren't available at this time.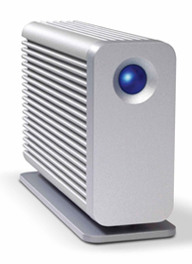 Hard drive maker LaCie was also prepared for Intel's Thunderbolt announcement, unveiling a new version of Little Big Disk with Thunderbolt support. While the company didn't respond to a Macworld request for comment by the time of publication, a press release announcing the product says the external hard drive was created with mobile and media professionals in mind and that it's designed to take advantage of Thunderbolt's impressive transfer rates with the large audio and video files it stores.
Other peripheral makers aren't ready to disclose specific plans for Thunderbolt. Western Digital has yet to publicly announce a Thunderbolt-compatible product, though public relations manager Heather Skinner spoke highly of the technology to Macworld.
"We have the tech in-house and are staging it now", Skinner said. "Whatever the customers embrace, we want to support it, and Thunderbolt is something we're looking at and working on."
Despite Western Digital's interest in the technology, the company doesn't pre-announce products, Skinner added, so if we hear about a Thunderbolt-ready Western Digital hard drive, it won't be until the drive is ready to ship.
Video and audio production technology company Avid is also not revealing its Thunderbolt plans at this time. But while the company says it can't discuss specifics surrounding emerging technology or its future product roadmap, it provided Macworld with a statement from senior director of product management Max Gutnik. "Thunderbolt provides users the kind of performance previously reserved for workstation-class computers," he said. "To have not one, but two 10Gbps, multi-protocol, and daisy chainable channels over a single cable is great for high-end audio and video solutions and will have a positive impact on the tech industry. Avid is very excited about Thunderbolt's capabilities."

Digital audio company Apogee Electronics also hasn't announced Thunderbolt products, but when contacted by Macworld, Apogee's director of marketing Sean McArthur and design engineer Lucas Van Der Mee did little to conceal their enthusiasm toward the new technology.
"Our catchphrase for this kind of technology is 'connectivity without compromise,' and we feel like (Thunderbolt) really breaks down a lot of barriers in the pro audio industry," McArthur said. "What's really great about the Thunderbolt technology is that it kind of takes the confusion out of what is the professional connectivity standard going forward. People are looking at USB 3.0, and FireWire 800 and the PCI-E cards, but now we all know, and we can move forward swiftly with [Thunderbolt's] incredible performance."
Added Van Der Mee: "What we like so much about it is the incredible bandwidth that it provides, along with this enormous simplicity, like the simplicity of FireWire and USB. But now you have this amazing bandwidth, which makes it just a fabulous solution."
Apogee's flagship audio interface, the Symphony I/O, is a high-end platform with a modular design that will allow Apogee to incorporate Thunderbolt technology into the device without having to redesign the product—a prospect, McArthur noted, that Apogee is looking into and will announce in due time.
McArthur also touched on Thunderbolt's potential to revolutionize the portable recording field.
"It makes portability a reality for really high-end systems," he said. "You could be recording with 32 or 64 channels, with a single cable connected to a laptop. That for us, is revolutionary, and we're very excited."
Macworld also contacted digital video interface company AJA Video Systems and spoke with the company founder and CEO, John Abt about Thunderbolt.
"It's pretty amazing technology, and as an engineer I'm blown away that they came out with something like this, because it's such a huge leap forward. The bandwidth you can get over this port is so much more than anything out today," Abt said. "We work with very high bandwidth video, both uncompressed and compressed, so this is right down our alley."
When asked if there were a specific Thunderbolt-compatible product in the pipeline at AJA, Abt noted that while it's too early to discuss specifics, AJA definitely plans on taking advantage of Thunderbolt technology in the near future.