The Game Developers Conference wrapped up last week, and many new games were announced. Here are a few that stood out.
Spacetime Studios' launches Blackstar
What would you do if you had an expansive sci-fi MMO with over $25 million invested in it, and it hadn't seen the light of day? You'd be Spacetime Studios, and you'd be bringing six years of development to the iOS in Quarter 2 of 2011. Blackstar, the recently unveiled global sci-fi themed free-to-play MMORPG, will be coming to the iOS later this year.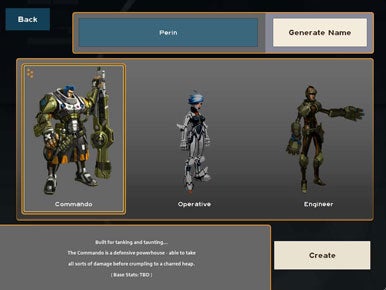 If the name Spacetime Studios is familiar to you, it's because you may have played the company's wildly popular fantasy-themed MMORPG, Pocket Legends. According to Gary Gattis, CEO of Spacetime Studios, the company recognized a "gaping hole" in the offerings of games on the iOS and that Spacetime Studios could provide the kind of high-quality MMO that players aren't experiencing yet.
With Pocket Legends, Spacetime Studios has an impressive statistic to brag about: while most games only see 2 percent of their users monetize, Spacetime Studios' games monetize at a rate of 10 percent. That means that even if fewer people download the games, more people are paying. But Gattis believes this is only the beginning. "Everyone will be playing mobile MMOs in three years," he predicts.
Blackstar hopes to be one of the many titles in the fray at that point. Like any good RPG, Blackstar will include classes, full customization of weapons and armor, auction houses, stashes, and multiple worlds to explore. The three classes mirror Spacetime's Pocket Legends; The Commando role takes the previous role of the warrior/tank while The Operative fits into the stealth/rogue role and The Engineer is the science fiction equivalent of a mage. According to Gattis, there will be puzzles to solve, environmental interactions to be had, and a larger plot to unravel.
Booyah struts out DJ Rivals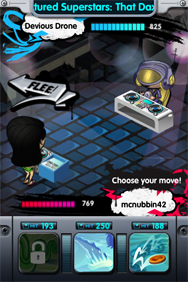 In Nightclub City DJ Rivals, you're a heroic DJ with superhero-like powers. Your mission is simple: rid the world of two evil corporations (BlandCorp and Big Hit Records) before they make the world's music bland and boring.
Developed by Booyah and currently available for free on the App Store, Nightclub City DJ Rivals combines many different game genres to deliver a unique playing experience. It is part location-based (like Foursquare), part rhythm-based (like Bit Trip Beat) and part social based (like MyTown).
The game combines multiplayer and single player gameplay. In it, players have to travel around their own cities, and using the game's GPS location capabilities, locate other players in which to compete against. You'll even see DJ Rivals name clubs in your virtual city after clubs in your real city and then populate these clubs with NPCs for you to play against. In the competitions, players must use their mad scratching skills on virtual turntables to out DJ their fellow DJs. If they defeat enough local DJs, players get to battle virtual evil boss DJs from BlandCorp and Big Hit records. You'll be able to power-up your moves, learn new combos, and unlock cool gear.
Death Rally ditches DOS for iOS
Remedy Entertainment has been in the automotive destruction business for over ten years now. First released in 1996 on DOS, the original Death Rally was a classic top-down racing game developed by Remedy and published by Apogee. Since then, Remedy has gone on to make A-List action titles like Alan Wake and Max Payne.
Now Remedy is teaming up with developers Mountain Sheep and Cornfox & Brothers to bring an updated adaptation of the game to the iOS later this month. By modernizing the company's old intellectual property, a whole new generation of players can enjoy the chaotic weapons-focused racing of Death Rally.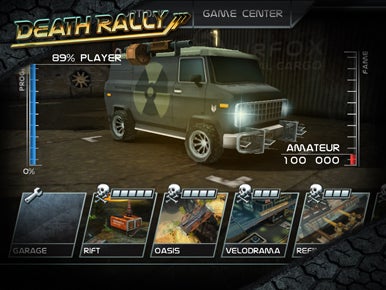 Featuring modernized graphics, five cars, six guns, as well as multiple power-ups and tracks, Death Rally has plenty of content to unlock and enjoy. Various parts are strewn among the course, and these can be used to upgrade your vehicle so it's faster and more destructive. Death Rally, like the original, features multiple unique personalities that you'll have to defeat in order to survive. In order to complete specific courses, you'll need to either kill the boss or beat him to the finish line.
According to Remedy, the game will have full GameCenter support and (unlike the 1996 DOS original) will feature a renewed focus on short game sessions, customizable camera angles, and the unique control schemes of the iPad and iPhone. Dedicated game fans may also be able to spot cameos from Alan Wake, Mini Gore, and even Duke Nukem.