YP—Yellow Pages for iPhone and YP—AT&T Yellow Pages for iPad are separate adaptations of the AT&T Yellow Pages in app format. The apps have different front ends but seem to (and should, logically) access the same database of businesses throughout the U.S.
It would be most fun to focus this brief review on the apps' interfaces. The iPhone version has a fairly effective voice recognition function that works very well. The iPad version lacks the voice recognition function but—well, it's on the iPad, and therefore easier to type in searches, read lists of results, and generally navigate, whether straight from from the app's interface or when the YP calls on the Maps app to help you explore business locations via virtual push-pins.
Unfortunately, it's the back-end—the actual database—where YP frequently disappoints. Entries are sometimes badly outdated; for example, a search for "pizza" in Chapel Hill, NC pointed to an in-town location of Mellow Mushroom that has been closed for several years. Sometimes, entries are just silly, as two places in the top 40 in my pizza search results turned out to be the Pizzagalli Construction Company and the Drug Abuse 24 Hour Helpline, both coming out on top of dozens more nearby restaurants where you could actually obtain pizza.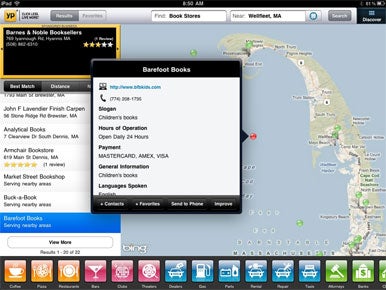 Sometimes the database fails to deliver location data that's available on a business's Website (which you can view within the app). For example, a search for book stores in Wellfleet, Massachusetts, didn't uncover an old favorite (Bookstore and Restaurant) but did point to a children's book store that was new to me. The map indicated, during one search, that it is located somewhere in the middle of Cape Cod Bay—how many fathoms deep, it didn't say. By the time I searched for bookstores again a few weeks later, it had drifted into the Atlantic, not far from the Truro shore. (It turned out to be Barefoot Books in Concord, Massachusetts, a good 123 miles from Wellfleet).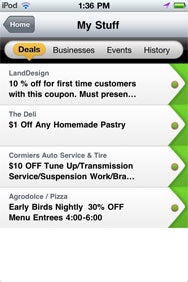 While such poor results could lead visitors and newbies to an area far astray, listings are otherwise often voluminous and provide lots info information—directions, phone numbers, links to Websites, and even, for more popular venues, user reviews. Most of this information is accurate, and can help even those who've lived in the same town for years to discover new places to eat, drink, and shop.
The iPhone version, in the end, outshines the iPad version, due to a recent major upgrade, which now provides easy to access lists of local deals (many of them virtual coupons that can be redeemed with a simple swipe) and upcoming local events. You can save these, along with other favorite places, in a "My Stuff" module, which is very handy.
The majority of deals are in the "dining" category, but there are plenty of others to be found as well. The local events are varied—a search around Wellfleet revealed upcoming shows and a food drive (and an offer for a stay at a local hotel, which could be an event, of sorts, but looked more like a paid (and well-disguised) placement. The iPad version also offers deals, but they are more difficult to locate and you must print them or e-mail them to yourself.
[Jeff Merron is a freelance writer and editor living in North Carolina.]
Note: When you purchase something after clicking links in our articles, we may earn a small commission. Read our affiliate link policy for more details.