Editor's Note: The following review is adapted from Five Star Apps: The Best iPhone and iPad Apps for Work and Play by Glenn Fleishman. (2010, Pearson Education and Peachpit Press).
Arithmetic drills can be tedious, but they remain the foundation of lifelong mathematical knowledge and ability. MathBoard from Palaware at least makes them well-presented, fun challenges. The iPad app emulates a chalkboard, which may mystify children who have never seen one.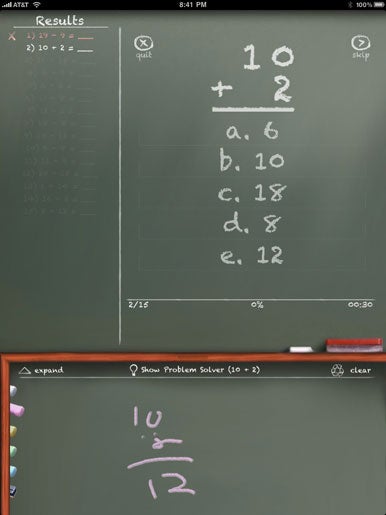 The software lets you choose among seven operations. They include the familiar addition, subtraction, multiplication, and division. But you and your children will be challenged by squares, cubes, and square roots. These advanced operators stretch the program from elementary school to far beyond.
You can set limits to avoid frustration or increase the challenge for yourself and others. For instance, you can set the total number of problems to solve in a set, or adjust the range of numbers to avoid problems that include values that are beyond the mathematical scope of the person using the program. A first grader might be taken aback at being asked to multiply 43×107.
While solving problems, a work area on the chalkboard appears at the bottom—and can expand full screen—with multiple colors of chalk.
There's also a built-in "problem solver." This tool walks you through solving an equation, showing each step along the way. This helps reduce the complexity of a problem to its component pieces.
The app has charm without losing track of its fundamental purpose. Maybe it will spur an interest in actual slates—they're highly portable and never crash!
[Glenn Fleishman is a senior contributor to Macworld.]