The last few years have brought a chorus of laments about the Internet's potential to shrivel our attention spans, but 60 Minutes for iPad—a $5 offering from CBS Interactive—proves there's still room for well-made long-form journalism.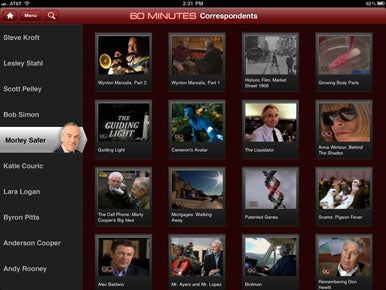 The app is pretty much what you expect: a remixing of CBS's venerable newsmagazine, featuring long interviews with celebrities and in-depth investigations on critical topics. (And, oh yeah, Andy Rooney.) Segments from recent shows can be watched in their entirety, along with behind-the-scenes additions like 60 Minutes Overtime, a Web series that augments the TV show. Stories are searchable by topic or by correspondent, and can be shared via e-mail, Twitter, or Facebook.
If there's a complaint to be had about this otherwise solid—if no-frills—app, it's the dearth of archival material. Some old stories made newly relevant by news events are available on the app, but (unlike 60 Minutes' Website) there's no way to search for stories from the show's decades of videotape. You're out of luck if you want to spend an hour or two watching Mike Wallace's old parking-lot ambush interviews from the 1980s.
That's a minor criticism. If you want to watch 60 Minutes on the go, you could buy individual news segments from the iTunes Store at $1 apiece. If iPad viewing is a regular habit, the $5 cost of this app will be worth it.
[Joel Mathis is a freelance journalist and political columnist for Scripps Howard News Service. He lives in Philadelphia.]