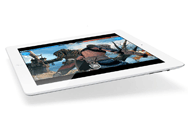 Apple contends its newly released iPad 2 improves upon the performance of its original tablet—a claim Macworld's iPad 2 review backed up. And continued testing of the new tablet by Macworld Lab further illustrates how its new dual-core A5 processor and faster graphics subsystem affect the iPad 2's battery life. The results are good news for iPad 2 owners.
Battery life
I tested a pair of new iPad 2s—a white 32GB model with AT&T 3G; and a black 16GB model with Verizon 3G. For comparison, I also tested with an original 16GB iPad 3G. (While our test models have different capacities, it's worth noting that the iPad uses flash storage—thus, the amount of storage capacity doesn't affect our battery life tests.) Like its predecessor, the iPad 2 boasts battery life of up to 10 hours. Or to be specific, Apple's iPad specs page says that's 10 hours of surfing the Web on Wi-Fi, watching video, or listening to music. The 3G-equipped models promise nine hours of Web surfing over a data network.
To test the battery life of each device, I played a movie I bought on the iTunes Store, repeating it until the battery finally gave out. I cranked the screen brightness all the way up, connected to a local Wi-Fi network, and set the volume low.
Battery Life: iPad 2
| | Minutes |
| --- | --- |
| iPad 2 32GB AT&T | 504 |
| iPad 2 16GB Verizon | 503 |
| iPad 16GB 3G | 490 |
The good news: even with its increased processor power, faster graphics, and smaller capacity, the iPad 2 actually outlasted the original iPad by a little less than three percent. (Note that the iPad 3G used by our Lab is nearly a year old, so it's possible that its battery life has degraded over the past 11 months.)
I also found that recharging the iPad 2 took much less time than the original iPad—although I didn't precisely gauge how long it took to recharge. The excruciatingly long time it takes to recharge the original iPad had been one of my biggest complaints with Apple's tablet, so I'm happy to see that the new models charge faster.
GarageBand
Having worked extensively with the Mac version of GarageBand, I know that the application can really task a Mac's processor and memory. So I was anxious to see how the new iPad can handle the new GarageBand for iPad ( ) app. And since the mobile version of GarageBand also runs on the original tablet, the app provides a nice way to compare performance on the different iPads.
GarageBand on iPad benchmarks
| | GarageBand Launch | GarageBand Send to Email | GarageBand Import from iTunes |
| --- | --- | --- | --- |
| iPad 2 32GB AT&T | 5 | 22 | 27 |
| iPad 16GB 3G | 7 | 25 | 52 |
Simply starting the application took about 5 seconds on the iPad 2 and 6 seconds on the original iPad. I took the included demo project and added a track to it. When I used GarageBand's menus to attach the song to an e-mail, it took 22 seconds on the iPad 2 and 25 seconds on the original. These two tests may not show dramatic performance differences, but they add up over time to a generally snappier, more responsive feel when using the iPad 2.
The performance boost on the iPad 2 was much more dramatic when performing an import of GarageBand file from iTunes. The iPad 2 was nearly twice as fast at loading and optimizing the file than the original iPad—an impressive result.
Other tests
I've seen reports on Apple's forums and at other news sites where iPad 2 owners have complained of excessive light leakage and color differences on the tablet's screen. I didn't find such problems with our two new iPads, and the displays in our test units had a similar small amount of light leakage. Overall, I found the iPad 2's colors to be richer than the original iPad; the viewing angle performance was also quite a bit better, with the original model losing contrast when looking at it from a distance or off-angle.
As for the iPad's new cameras, our colleagues in the PC World Labs ran some tests comparing the front- and rear-facing cameras to those found in the Motorola Xoom and Samsung Galaxy Tab.
And we're not done testing the new iPad 2. If there are any other tests you'd like to see run, please suggest them in this story's comments section and we'll do our best to include them in upcoming stories.
[James Galbraith is Macworld's lab director.]