Editor's Note: The following review is adapted from Five Star Apps: The Best iPhone and iPad Apps for Work and Play by Glenn Fleishman. (2010, Pearson Education and Peachpit Press).
Demiforce's Trism was one of the first iPhone breakout games that everyone was suddenly downloading and playing—and the game, which is now a universal app optimized for the iPad as well as the iPhone and iPod touch, remains worthy of your attention. Its essence is simple—you're presented with a screen of equilateral triangles of different colors. You move triangles as a ribbon that wraps around the edges either diagonally left or right, or horizontally.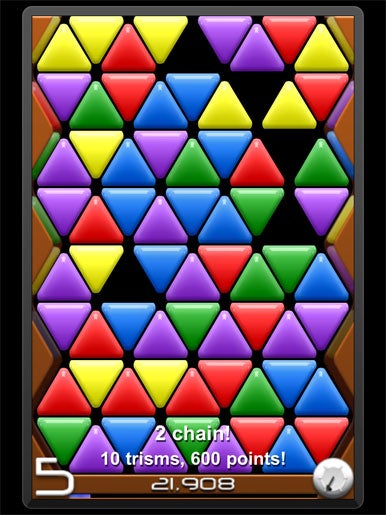 Line up three or more triangles across adjacent faces, and they're removed. As in Bejeweled, a game to which Trism owns more than a glance, assembling a set of more than three triangles provides bigger rewards, and certain patterns are allotted badges, displayed on a trophies page. Matches cascade for more points as pieces removed for one match slide other sets of three or more triangles into new matches.
There are three modes of game play. Untimed gameplay is called Infinism and a timed mode is Terminism. Challenges are inserted, such as a bomb that has to be cleared in a set number of moves. These two modes can be quite stressful. It's not intuitive to follow diagonal patterns that wrap around. A combination of acuity and rapid pattern recognition are required to keep up with the game.
The third mode is more intriguing. Syllogism is a set of levels in which you slide pieces together in the least number of moves. Gameplay uses device tilting to move all the free pieces in a given direction at once. Scoring is based on least moves to achieve the objective.
You can optionally create an account to share scores with a global leaderboard, or keep your obsession to yourself.
[Glenn Fleishman is a senior contributor to Macworld.]