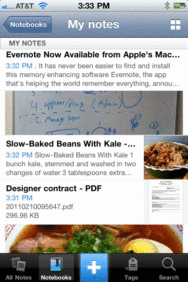 Evernote relaunched its popular note-collecting app for iPhone and iPad Tuesday, an overhaul that features a redesigned home screen and revamped note-taking capabilities.
Version 4.0 of the app features new ways to look at your content, including a "snippet view" that offers slices of the text and photos contained in a note, letting you decide if you need to delve further into that file or move on to the next. The upgrade also expands note-taking capabilities, letting you record up to 90 minutes of audio, attach multiple images and recordings to one note, or add photos and text to a note at the same time you make an audio recording. (A demonstration of the app can be seen in the video below.)
Other upgrades include a new search screen that includes the option to save repeated searches; you can also more easily view notes either by their designated notebooks or tags.
The developers said more changes are on the way in future versions, including the ability to share notebooks between users and in-app editing of notes with formatted text and multimedia.
Evernote 4.0 is free, and compatible any device running iOS 3.0 or later.
Read more…