Editor's Note: The following article is reprinted from Macworld UK. Visit Macworld UK's blog page for the latest Mac news from across the Atlantic.
Infinite Skills has released a new iPad app which offers access to free tutorials in Mac OS X, Adobe CS5 and more, from the company's library of successful training titles.
Training provider Infinite Skills has made the app available from Apple's App Store, as well as other popular third party Websites. The app provides easy access to hundreds of free lessons covering all the most popular and up-to-date programs.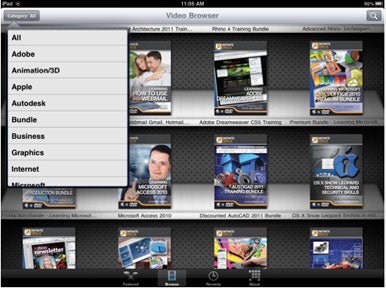 Mike Spaulding, the president of Infinite Skills, said, "As tablets become more and more a part of the way people access multimedia, it only makes sense that they will want to watch training videos in such a convenient format."
The free Infinite Skills Video Based Software Training app for iPad teaches users core skills and techniques, using short video tutorials. The example-based teaching method provides an easy way to learn for people from all backgrounds. The app also provides a preview of the complete training courses, available for instant download or DVD from the company's Website. The complete training courses include the recent Adobe Flash CS5 video tutorial series.
For a full list of the courses available from Infinite Skills, visit the Infinite Skills Website.
The new app joins Infinite Skills' complete training for Final Cut Pro and AutoCAD 2011, which is currently available for Apple's iOS devices. Infinite Skills' current tutorials provide training for more than three dozen programs, including the Adobe CS5 design suite, Apple's Final Cut Studio, Autodesk AutoCAD and Revit. The company releases new courses each month, choosing topics according to popular demand and the most recent product releases.