At a Glance
Expert's Rating
Pros
450Mbps wireless
Guest network
Concurrent 2.4GHz and 5GHz
Cons
Currently lacks IPv6 support
Our Verdict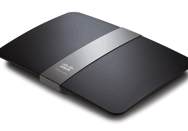 Linksys's E4200 dual-band wireless gigabit router is like a box of chocolates, but not in the Forrest Gump sense. You actually know exactly what you're going to get: great performance and features.
The E4200 looks, literally, like a box of expensive chocolates. With its smooth, charcoal gray matte finish, this is possibly the best-looking router in the business. All of the status lights are hidden on the back of the unit next to the WAN and ethernet ports, which heightens the effect.
The E4200 is easy to set up. Cisco Linksys provides a setup CD that will walk you through the process, or you can get the unit started manually via the normal Linksys HTML configuration page at 192.168.1.1. The interface is easy to use, but some features such as the parental controls and Internet access policy could be more intuitive.
As nice as the E4200 looks, it would all be for naught if the unit didn't perform. Fortunately, this router performs exceedingly well. It's the first 450Mbps wireless router (most high-end, consumer routers offer 300Mbps) to pass through our hands, and the extra-wide pipe seemed to work well. Streaming a 1080p movie to a digital media adapter while downloading a large 1.85GB file at the same time worked fine. Quite often, something gives in this scenario. Range in my challenging office was about 60 feet, but you'll do much better in a wide-open space.

Other than the new look and 450Mbps wireless, the E4200 is a feature clone of the E3000, another unique-looking Linksys gigabit, Wi-Fi router. You get simultaneous dual-band 2.4- and 5GHz wireless, advanced quality of service (QoS) features, a guest login network, an SPI firewall, and Wi-Fi protected setup.
Other features include UPnP media serving of files from USB drives attached to the unit, DMZ, port forwarding, triggered port forwarding, and parental controls. The only thing missing from the E4200 is support for IPv6, which the company says will roll out later this year in a firmware upgrade.
Macworld's buying advice
At $180, the E4200 has supplanted the E3000 as top model in the Cisco Linksys consumer router lineup. The E3000 now costs $20 less and remains a viable option if you don't need the extra wireless speed.