Apple CEO Steve Jobs—on medical leave from the company—made an appearance at Wednesday's Apple press event in San Francisco to introduce the iPad 2.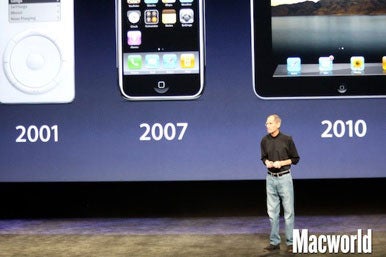 "We've been working on this product a while, and I didn't want to miss today," Jobs told reporters.
Walking on stage at the start of the event, Jobs received a standing ovation from those in attendance.
Jobs announced his current medical leave back in January, leaving chief operating officer Tim Cook in charge of Apple's day-to-day operations. In an open letter to the company's employees, Jobs wrote, "I love Apple so much and hope to be back as soon as I can. In the meantime, my family and I would deeply appreciate respect for our privacy."
Jobs has battled various health issues over the past few years, including a rare, treatable form of pancreatic cancer in 2004 and what he referred to as a "hormone imbalance" that led to a 2009 liver transplant.