Apple gave iOS users a glimpse at what to expect from its forthcoming iOS 4.3 update on Wednesday, when it previewed the mobile operating system at its iPad 2 launch event. iOS 4.3 promises improved Safari performance, wireless media streaming in the form of iTunes Home Sharing, AirPlay improvements, a Personal Hotspot option for the iPhone 4, and a preference setting for the iPad's side switch.
Scott Forstall, senior vice president of iOS software, was on hand to present the latest iteration to Apple's mobile operating system. He focused first on the improvements to Apple's Safari app. To increase JavaScript runtime speed, the company incorporated Mac OS X's Nitro JavaScript engine into its mobile OS; as a result, iOS runs JavaScript up to two times as fast as it had previously.
iOS 4.3 adds iTunes Home Sharing to iOS devices like the iPad 2. The feature, which is already offered for computers running iTunes, lets you stream your entire iTunes library from a Mac or PC to an iOS device. That includes podcasts and audiobooks in addition to music, movies, and TV shows. The feature saves iOS device users the hassle of downloading or syncing content to their iPhone, iPad, or iPod touch.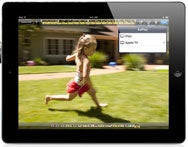 The iOS update also tweaks the AirPlay feature that lets iOS device users stream content to their HDTV through the Apple TV set-top box. With iOS 4.3, third-party apps and Websites will be able to take advantage of full audio and video streaming using AirPlay. End-users will be able to stream videos from their Photos app, and they'll also be able to use built-in slideshow transitions from Apple TV right on their iPad, iPhone, or iPod touch.
Several device-specific improvements—changes to the iPad's side switch and the addition of Personal Hotspot for all iPhone 4 models—were also announced. As first seen in the 4.3 developer build, iPad users will now get to choose whether they'd like their device's side switch to mute or orientation lock the screen.
Meanwhile, with iOS 4.3, any GSM-based iPhone 4 will gain the Personal Hotspot feature, first introduced on the Verizon iPhone. Personal Hotspot lets users share their cellular data connection with up to five Wi-Fi-capable devices over Wi-Fi, Bluetooth, and USB. Three of those connections can come via Wi-Fi. AT&T announced plans to support the hotspot feature last month, and its promised pricing compares attractively to what Verizon is offering. Like Verizon, AT&T charges $20 per month on top of its regular data plan, and you get an additional 2GB of data for mobile hotspots. However, AT&T stacks that extra data on top of its DataPro Plan, so connected devices can draw from that total without incurring overage charges. AT&T charges $10 per gigabyte if you go over your limit. (Verizon's plan includes 2GB of data only for connected devices; it charges $20 per gigabyte when you go over that amount.)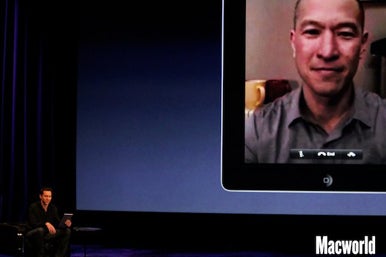 Outside of iOS 4.3, the iPad 2 has added several new system apps to its repertoire. Photo Booth, which offers a nine-effect video preview and finger-malleable effects, and FaceTime, which brings full-screen video conferencing to the iPad. You can have FaceTime conversations between any applicable device—the iPhone 4, fourth-generation iPod touch, iPad 2, and any Mac with FaceTime installed.
iOS 4.3 will be available as a free download from iTunes for the iPad, the iPhone 3GS, the GSM iPhone 4, and the third- and fourth-generation iPod touch on March 11. Notably missing from Apple's iOS 4.3 compatibility listing is any mention of the CDMA iPhone 4 that works on Verizon's network. We've put in a call to Apple for clarification on its plans for iOS 4.3 and Verizon's iPhones. However, Ars Technica quotes an Apple representative as saying that Apple just released the CDMA iPhone and that "if history's an indicator, these things will eventually converge."
Updated at 4:04 p.m. PT with more information throughout the article.
iPad (1st generation) Family
Apple iPad 2 Tablet Computer
iPad 2 with Wi-Fi + 3G 16GB