Network-attached storage specialist QNAP has pre-announced an important revison to its flagship standalone NAS series.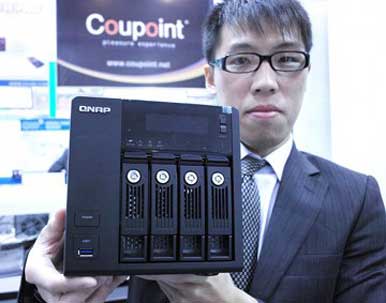 The TS-x59 Pro and Pro+ series will soon be joined by the TS-x59 Pro II. This will feature two USB 3.0 ports (one front, one back) in place of former USB 2.0 ports. In addition, the SATA interface has been updated to SATA 6Gbps, allowing the use of faster hard disks or SSD storage. In place of the fixed 1GB DDR3 memory, the range will allow for RAM upgrades by the user, up to 3GB.
Powering the TS-x59 Pro II series is the same Intel Atom D525, a dual-core version of the popular low-power x86 processor, clocked at 1.8GHz.
Three models are planned at present, the TS-459 Pro II, TS-559 Pro II and TS-659 Pro II, featuring four, five and six bays respectively. The units will accept 3.5-inch hard disks, and 2.5-inch HDD or SSD storage can be fitted without adaptors.
The worldwide launch of the TS-x59 Pro II series is scheduled for March 22. Prices and full specifiaction will be announced then, although units should retail for around $50 more than the preceding TS-x59 Pro+ models.
Last month, QNAP released an update to its Linux-based NAS operating system, to V3.4, adding support for RAID 10 configuration.
Other revisions included the MyCloudNAS service to allow easier file access from outside the home or business site of the NAS drive; and wireless LAN support through the use of third-party Wi-Fi dongles mounted in QNAP drives' USB ports.