Will lightning strike thrice? That's what Firemint is hoping for with their soon-to-be-released new iOS game franchise, Agent Squeak.
After hitting home runs with the Flight Control and the Real Racing franchises, the Australian iOS developer is hoping that Agent Squeek's cartoonish stealth action will be another mega-hit. At the Game Developers Conference, Macworld sat down with Firemint to get a first-look at this well-anticipated casual title. Due out sometime in 2011 and without a price set yet, Agent Squeek should be on every mobile gamer's radar.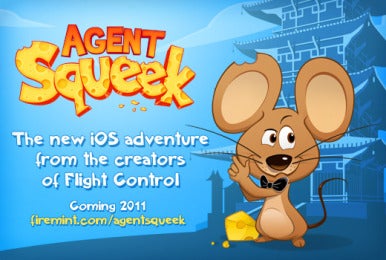 Agent Squeek is a simple game of cat and mouse—only with tuxedos and jetpacks. Imagine instead of your typical lazy house cat and the mischievous mouse, the world was populated with feline James Bondian supervillains and mouse secret agents. Such is the world of Agent Squeek, a top-down "path drawing" stealth game with Firemint's trademark cartoonish humor.
Your job is to draw a path so that Agent Sqeek can successfully steal a piece of a cheese in a given level and escape—all the while avoiding the patrols of local cats. The "path drawing" gameplay mechanic should be familiar to iOS gamers at this point due to its inclusion in the Flight Control series. You'll need quick reflexes and good planning on each mission. If not, you're cat food.
In our hands-on with the pre-alpha build, the player must guide the titular Agent Squeek through various houses, to a guarded piece of cheese, and escape (preferably undetected) through a door. The gamplay is intuitive, recognizable, and like most of Firemint's products, very clever. Still, even with the simple tapping-based gameplay on the iOS device, we've seen other games like this before. Thankfully, the imaginative world that surrounds the little mouse is a bit more original.
In addition to trying to steal cheese, Agent Squeek is trying to thwart the secret plans of an evil cat supervillain. So while each level plays out as a top-down stealth game, there's also object hunting, power-ups, and boss battles. You'll need to stop whatever evil plans the cats are cooking up; in the demonstration, this included assembling a top-secret blueprint and fighting cats in armored suits. Also expect a catchy, spy-themed soundtrack.
Like many casual titles, Agent Squeek will feature a star system based on your performance in each level. The more stars per level, the more content you unlock. So far, Firemint is mum on how many levels the game will contain, but in the demonstration I saw, the first world contained at least a dozen missions. This means Agent Squeek could be a very deep, long experience.
So far, details on the title are as elusive as the titular mouse. The release date, pricing, and level-count are all subject to change, but Firemint assures us that it will launch sometime this calendar year.