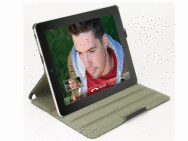 Whenever Apple announces a new product, a rich system of accessories and peripherals is sure to spring up around it. Scosche Industries proved the point Wednesday, following the debut of the iPad 2 with the announcement of its own line of cases designed for the new device.
The cases include the new the foldIO p2 series, a $45 folio case that comes in four different models—black or white, carbon or leather—and provides three different landscape viewing options in addition to suede interior. The company's cheaper options for protecting your new iPad 2 include the glosSEE P2, a line of $40 translucent rubber cases, and the $30 snapSHIELD p2 line of hard-shelled polycarbonate cases. (Scosche is also offering three different types of screen protectors ranging in price from $20 to $50.)
Scosche on Wednesday promoted other products as being compatible with the iPad 2, though they apparently work across a range of products, not all of them in the Apple universe. The devices include the freeKEY Bluetooth keyboard, a $60 device that rolls up like a yoga map, but offers a 30-foot wireless working range. Charging options range from the $18 powerPLUG for car use to the $80 goBAT II, which acts as both a portable charger and backup battery.
The iPad 2-compatible products are available for viewing on the Scosche Industries' Web site, but most won't ship until mid-March.