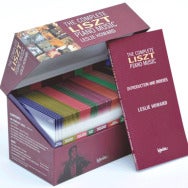 UK-based classical label Hyperion Records has released what may be the biggest music download ever. The Complete Piano Music, by Franz Liszt, a digital version of a 99-CD box set, is now available, in both MP3 and lossless FLAC formats. At roughly 26GB for the FLAC download, and 12GB for the MP3s, this will not only tax your bandwidth, but will also take quite some time to listen to. Its 1464 tracks take up more than 7350 minutes—or 122 hours—and this set holds the Guinness World Record for the world's largest recording series by a solo artist.
Listed at £200, Hyperion offers a 25 discount on orders of more than £59—which brings the price of the set down to £150 after you put it into your cart. That's £100 less than the CD version, and you don't have to spend any time ripping the discs. (It's also worth noting that Hyperion has the best tag information and metadata of any classical label I know.)
The iTunes Store has sold some "digital box sets" in the past, notably The Beatles Box Set, which iTunes sells for $149 and contains 256 items (which includes several videos). In the past, Apple offered the Bob Dylan Collection, containing around 700 songs, and the Complete U2, with some 450 tracks. (Neither of these is offered any longer.) But at best, the Dylan set was about 52 hours of music, compared to this Liszt set, which is more than twice as long.
Granted, these file sizes are nothing compared to, say, TV series in HD; at around 1.2GB for a 1-hour show, a season of 24 clocks in at around 28GB. But for music downloads, this one is a whopper.
Hyperion has developed its own Adobe AIR-based download manager, so the download process involves a single click—and a lot of waiting. But if you're interested in Liszt, this set is a landmark, and will give you enough listening to keep you busy for a long time.