There's no shortage of Mac software for controlling iTunes when it's not the frontmost application—just here in Mac Gems, we've covered CoverSutra, SizzlingKeys, and Synergy. Bowtie (Mac App Store link) is yet another entry in this crowded field, but it's one with a major distinction.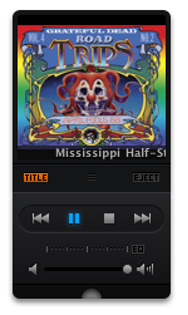 Like many similar utilities, Bowtie's small window contains buttons—Previous, Play, Pause, Next—for controlling playback. (Bowtie also offers customizable keyboard shortcuts for those functions, as well as for changing the volume, increasing or decreasing track ratings, and, for Last.fm users, for loving or banning tracks.) You can choose to have this window—the "Bowlet"—stay visible at all times or behave like a normal window.
What distinguises Bowtie from some of the other iTunes controllers is that it's skinnable. There are dozens of free themes for Bowtie, which let you choose what you want the Bowlet to look like and the controls that it contains. Some of these themes show album art, others merely text; some are tiny, others large; some have animations (for example, spinning "vinyl" records), while others have "scrubbing" progress bars for quickly moving to a different position in a track. All of these themes can be downloaded from within the application and applied with a click. These themes are nice if you opt to keep the Bowlet window visible at all times, although in an attempt to conserve screen space, many are too small to be practical.
The developer also offers a $1 iOS app that lets you control music playback on an iOS device from your Mac. It's the opposite, in functionality, of Apple's Remote app, and it can be useful if you've got your iPhone in a docking speaker system across the room while you're sitting in front of your Mac. The downside is that the remote-app's features are limited to Previous, Play, Pause, and Next.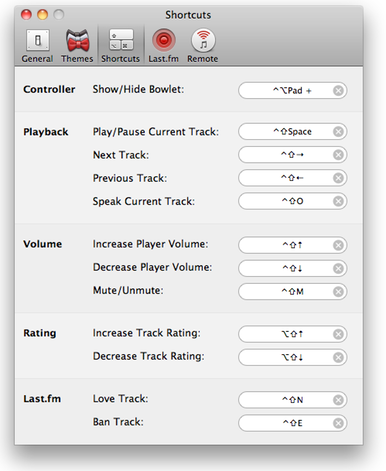 Bowtie is a good tool for controlling iTunes playback from the keyboard, and the many themes for its visual controllers add appeal. It might not provide as many features as, say, CoverSutra, which provides cover art, detailed track information, and more options in a single floating controller. But Bowtie's price is right. If you want a simple, free tool to control your music, Bowtie will do the trick.
Senior contributor Kirk McElhearn writes about more than just Macs on his blog Kirkville. Twitter: @mcelhearn Kirk's latest book is Take Control of iTunes 10: The FAQ.
Want to stay up to date with the latest Gems? Sign up for the Mac Gems newsletter for a weekly e-mail summary of Gems reviews sent directly to your Inbox. You can also follow Mac Gems on Twitter.
Note: When you purchase something after clicking links in our articles, we may earn a small commission. Read our affiliate link policy for more details.