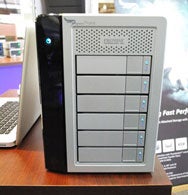 After a last minute courier delivery on Thursday morning to CeBIT Hall 2, Promise Technology became the first company at CeBit to demonstrate Thunderbolt.
The Promise Pegasus R4 and R6 are four- and six-bay RAID arrays with Thunderbolt connectivity, two of the first products outside of Apple to sport the technology.
Thunderbolt was unveiled last week with the launch of a new range of Apple MacBook Pro notebooks that feature the latest connection standard from Intel.
Formerly known as Light Peak, this hyperfast I/O system is said to provide two channels of 10Gbps transfers. This contrasts with the emerging USB 3.0 standard, specified to 4.8Gbps.
On its exhibition stand at CeBIT 2011, Promise Technology demonstrated some of the capability of the system by playing four streams of uncompressed high-definition video.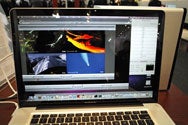 For the Pegasus R6, Promise Technology cites over 800MBps raw performance. And in the demonstration visitors could see the setup taking the four-feed 1920-by-1080, 10-bit uncompressed datastream in its stride.
Played from a new MacBook Pro, Mac OS X's Activity Monitor app showed a stream that averaged 630MBps, with a 650.9MBps peak datarate.
Unlike some RAID systems, Promise uses a hardware RAID system, rather than conducted through software by a unit's CPU.
Worldwide pricing for the Promise Pegasus is to be announced, with availability said to be within the second quarter of this year.