The iPad 2 may be on its way in, but that doesn't mean that good old "iPad classic" is on its way out, as evidenced by the multitude of cases and accessories that continue to be announced and advertised for it. Hey, there are still more than 15 million iPads out there, with many still in need of protection, right?
So sit back, grab a drink or three, relax, and read on for what's new in the world of the iPad protection racket. In case you missed our previous episodes, you can find them all here.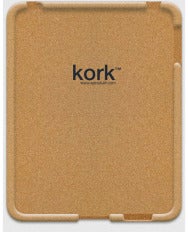 Aprodukt: Don't let the Kork's deceivingly simple design distract you from the fact that this case is made out of one of the best organic materials in the world—cork is lightweight, waterproof, and shock-resistant. The case, which costs €50, features angled slots for the iPad's speaker and microphone to provide the best sound output, as well as openings for all the iPad's ports.
Belkin: If you like to walk around with your iPad, you may want to give Belkin's Grip 360 + Stand for iPad ($50) a try. It features a convenient strap at the back that lets you hold the magical device firmly in your hand, and easily converts into a convenient stand for desktop viewing.
Bluetrek: The Slim Case Stand ($60) is a case/stand combo made entirely of recycled and recyclable materials. It even comes with a handy microfibre cleaning pad. The Genuine Leather Pouch ($90) includes three slots for credit, ID, or business cards.
Chima Designs: Versatility is the name of the game with the Crucial Case ($60), which combines a case, a stand for desktop viewing, and a strap for securing the iPad either to your hands or to the headrest of a car seat. The case is made of ballistic nylon and even features a food-tray mount for use on airplanes, where it will conveniently hide the airline's food from view.
Cygnett: If you're the kind of rough-and-tumble iPad user that needs extra protection (or, alternatively, if you want to let your kids have at it without suffering multiple heart attacks throughout the day), you may want to consider Cygnett's TuffStuff, a $65 cover made of extra-strong rubber, with internal ribbing for maximum protection.
Draw: This company's iPad case combines a sturdy, aluminium construction with a foam-padded interior for maximum protection and a great look. It's available in black, green, blue, pink, or metal finish and costs $200, including free delivery.
Drive Industries: If you live in a cold climate like yours truly, Drive's iPad cases will hopefully help you weather the winter with warm themes inspired by their Hawaiian heritage. From surfboard looks to floral patterns, these $55 rigid shells will let you take a piece of Pacific paradise wherever you go.
For Pilots Only: Anyone with a private pilot's license ought to love the iPad—I know I would do almost anything to escape the wonderful experience that is attempting to fold a map while writing down the latest METAR and, of course, attempting to land without causing a major incident. With the iPro Aviator Kneepad ($80), I should finally be able to replace the majority of my pilot paraphernalia with an iPad.
Franky Wish: If you're after a sleeve, check out Franky Wish's offerings, which are made from high-tech, synthetic leather and come in such fancy colors as "electric wish black" and "urban enigma." Each sleeve will set you back €47.
FrappeDesign: This company's homonymous folio case ($69) allows you to store your iPad while providing plenty of pockets and slots for items such as pens, paper and cards. The case is designed for both left- and right-handed users, and it features a flap that can be used to prop up the iPad in a standing position for typing or viewing. It comes in black, tanned orange, or metallic grey.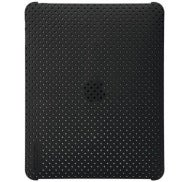 Incase: Scratch protection, lightweight construction, and a tight fit are the three main features of the Perforated Snap Case ($40), which, as its name implies, features the company's signature perforated pattern.
Griffin Technology: The well-known accessory maker has teamed up with leather manufacturer Colonel Littleton to bring us a complete line of handmade iPad cases. If cost is no object, you'll love the Courier Bag (starts at $695), Trekker (starts at $425) and Docker($168 and up), Portfolio ($350 and up), Pocket(starts $158), and Clutch ($176 and up). Each features premium leather construction and are designed to fit the iPad in a variety of configurations.
For a more modern look, you may want to consider the Lightboard ($40), which combines a sturdy iPad case, a drawing board, and kid-resistant protection in one convenient package. The Lightboard is designed to work in combination with the company's Lightboard Trace app, which lets the little ones have fun drawing alongside the iPad.
iChair: This company's motto is "you sit, it stands," which fits the theme of the minimalistic, two-piece iPad Case ($49) perfectly. Available in black with spare white or blue sliders, the case features flaps that allow it to double as a stand in a variety of different positions.
iKit: Speaking of minimalistic looks, this company's iPad Exec Case ($40) combines a carved hardshell with brushed leather for a sophisticated look and feel. The case is impact-resistant and provides access to all of the iPad's controls and ports.
iSkin: The Aura ($120) combines form and function in a beautiful package that features hand-made construction using a variety of modern materials. It comes in three different colors and provides a versatile experience that includes standing and typing in several different positions.
Joby: The GorillaMobile Yogi ($50) is unlike any other stand in this round-up. It uses flexible legs to stabilize your iPad in just about any position, and it can be easily installed and removed at a moment's notice.
Maclocks: There's no doubt that the iPad makes for a great presentation device—one that can sit pretty on any store's display, ready to showcase your products and wow prospective clients. Alas, its light weight and portable size also makes it vulnerable to theft. Unless, of course, you happen to have one of Maclocks's Security Case bundles ($70), which include a lock and a steel-cable tether. The security case's transparent looks preserve the iPad's beauty, and the case is also available separately for $55.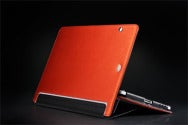 Moshi: The Concerti for iPad ($55) is a versatile cross between a man-purse and a case. It has a handy strap for carrying your device around, and its hybrid silicone/microfiber construction keeps the iPad safe while allowing full access to its screen and controls. The case even flips around to become a nice landscape stand.
Also from Moshi is the Muse, a $30 sleeve that comes in gray, beige, purple, or black. It's zipperless, Velcro-free and just plain stylish.
MyCase Concepts: Despite this company's off-the-beaten-path marketing, the design of its cases is rooted in classic style. The Classic Folio ($20), for example, features a leather look and can also be used as a landscape stand or a typing platform. For a more unique look, you could also go with the Don't Panic Folio, which features a Hitchhiker's Guide to the Galaxy-inspired inscription on the front. I half-expected the latter case to cost $42, but it's currently on sale for $25 (regularly $30).
Newer Technology: The Pad Protector ($25) comes in a rich, leather finish and works as both a landscape or portrait stand and a standard case. It's available in black or red.
Otterbox: This company is known for its sturdy and sporty designs, and the Utility Series Latch case ($50) doesn't disappoint. The accessory for an accessory—it's a carrying/holding system for one of OtterBox's iPad cases—features a number of pockets, a strap for holding the iPad or mounting it to a car headrest, and a variety of straps and snaps to make it perfect for taking your encased iPad on your next trip.
Pad and Quill: For that old-world feel, look no further than this company's Case for iPad line, which encases your iPad in a well-worn bookcover-style case designed with 21st-century materials in mind. The Volume 2 ($65) and Volume 3 ($60) each feature an elastic strap to keep the case closed and a lid that flips around to provide a comfortable typing platform.
Palmer & Sons: This Canadian manufacturer, based in Vancouver, specializes in high-end leather accessories. The Leather iPad Hip Bag No. 19 will set you back a cool $310 (Canadian), but it will also equip you with a custom-built leather bag in one of four colors (Havana Brown, London Tan, Oxblood or Cognac), with panic clasp closures and brass-rivet construction throughout.
Powis: This company's iCase comes in a variety of leather materials ($80) or patterned, laminated, recycled boards ($50). The case features a book-like look, an elastic band to keep the case closed, and a wipe cloth inside a secret storage compartment.
Saddleback Leather Co.: Continuing our showcase of leather accessories, Saddleback offers the Sleeve Gadget Pouch Large ($55) in four colors: chestnut, tobacco, carbon, or coffee brown. As its name implies, the case features a simple pouch-like design, with elegant and sturdy stitching, that fits your iPad like a leather glove. If you prefer more functionality, the company's iPad Case series comes in the same selection of colors as the Gadget Pouch, doubles as a landscape stand, and includes a one-hundred-year warranty—enough, as the Saddleback's website states, to outlast thirty iPads.
Sanus: Speaking of cool mounts, Sanus has introduced the VMA301 (price varies by region), which has the unique characteristic of being compatible with standard VESA mounts designed for flat-screen TVs. It even includes a "Virtual Axis 3D" cup-shaped faceplate that allows you to mount the iPad in either landscape or portrait mode, and it's compatible with selected Sanus mounts.
Scosche: If you find yourself fearing for your iPad's safety, Scosche's Kickback P1 is made of shatterproof polycarbonate and shock-resistant rubber for peace of mind. The Kickback costs $60 and can double as a landscape- or portrait-orientation stand, as well as a typing platform.
SecretMac: The Fantabulous iPad Case ($25) is a reasonably-priced, lightweight sleeve made entirely of felt that combines a splash of colour with soft construction for maximum iPad safety. It comes in blue, pink, yellow, or green.
SGP: The SGP Garitz Modern Series case ($90) features vegetable-tanned leather from Italy—what we Italians like to call "vera pelle"—and is hand-made for maximum luxury at an affordable price. The case comes in three colors: black, light brown, or dark brown.
Speck: The $50 DustJacket's flimsy sounding name may be misleading, as this is one high-tech case you will want to check out. It features a book-style look (that doubles as an adjustable stand); a durable, padded, red exterior; and a micro-fleece interior lining.
For a more modern look, check out the company's Candyshell Wrap for iPad ($60), which sports a look eerily reminiscent of Apple's new Smart Cover—and, in fact, works pretty much the same way, with the front acting both as a cover and as a stand.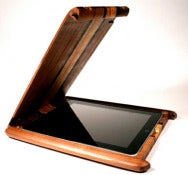 Substrata: From leather, we move on to another organic material, wood. Substrata offers its iPad Box in walnut, zabrano, or wenge. This luxurious case starts at $195 and features wood latches, a microsuede lining, and integrated wood hinges. It also functions as a stand both for portrait and landscape orientations.
Switcheasy: The Canvas ($50), as its name implies, is made of durable, scratch-resistant black canvas material. The case features a lush, microfibre-padded lining and can be used as a stand at either of two viewing angles.
If you prefer sturdiness, you may want to check out the company's Vulcan ($30), which features a scratch-resistant, hydro-polymer construction for extra strength and comes with protective covers for both the headphone-jack and dock-connector openings for maximum protection.
Toffee: This company's iPad Folio ($100) comes in three colors—black, red, and brown—and can be used as a stand with four different viewing angles, or strapped to a car seat's headrest for backseat roadtrip viewing. The Attaché, on the other hand, is a slim case that fits your iPad and all the paraphernalia needed for a successful business trip. It comes in black or red and will set you back $196.
Toucoul: The Coulvue ($80) is not properly a case, but rather a unique stand that combines a minimalistic look with support for both desktop viewing and headrest mounting. Just snap in your iPad, this device—which will ship on March 15th and is currently available for pre-order—will do the rest.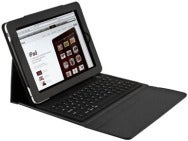 USB Fever: The PU Leather Case with Bluetooth Keyboard for iPad ($70) combines a leather case with a Bluetooth keyboard to turn your iPad into a luxurious netbook/tablet combination. Perfect for travel, it comes in black and features a magnetic closure.
Prefer something a little more exotic? The Folio Urban Wide Case ($53) features a strap that allows you to hang the iPad around your neck and comes in black, orange, brown, or red. It can also be used as a landscape stand. Its Tall cousin, which is available in only black or orange, offers the same features but is designed to function as a portrait stand.
Vogel's: The RingO (price TBD) is a clever mounting system based on a hardshell case with interchangeable attchments that can be used to mount the iPad to a wall or car-seat headrest, or simply to a desktop stand.
Wüdskins: Modern meets ancient in this community-funded iPad case that combines warm bamboo with cool aluminium. While the project is still in its initial funding stage through the Kickstarter Website, the case promises to be a unique and sturdy entrant in the crowded iPad-accessory market.
Zerochroma: If you need an iPad stand that offers maximum flexibility, the Zerochroma is for you. This case's pop-out stand arm can be tilted in fourteen different positions and rotated 360 degrees to find the exact position that matches your need. It comes in three color combinations (black/grey, white/grey, or pink/fuchsia) and costs $70.