The latest update to the Twitter app for iOS devices allows you to share and access every thought, sight and observation with the world with some new auto-complete typing shortcuts and a new interface feature, just for iPhone users. Sorry, iPad users. Then again, iPad might have the advantage on this one.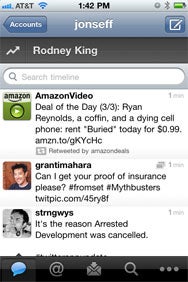 Version 3.3 of the official Twitter app released Thursday comes with several bug fixes, easier photo and video uploading procedures, a new feature for finding trends based on your location and a "cleaner, redesigned Tweet compose screen," according to the Apple App Store.
Tweeters who use their iPhone, iPod touch, or iPad to compose their tweets no longer have to write out the entire usernames or hashtags keystroke by keystroke. The update comes with an autocomplete feature that finishes both for you after you type in the "@" or "#" character in the body of your tweet. It also automatically shortens URLs for web site links.
iPhone users also have access to a "Quick Bar" that allows you to search for trends, replies and personal messages without having to close your timeline. Some, however, aren't embracing the new feature with open arms. TechCrunch noted that the "Quick Bar" also includes advertisements at the top of the timeline screen as part of Twitter's never-ending quest to turn its social networking juggernaut into a for-profit entity. It not only shrinks the screen, but some users are complaining that the "Quick Bar" is being "shoved in your face" because they can't turn it off.