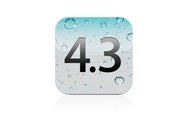 In preparation for iOS 4.3's release next week, Apple on Thursday released the golden master of the software to members of its iOS Developer Program. The golden master version of software is usually the version that actually ships to users.
Steve Jobs publicly unveiled the features of iOS 4.3 at Apple's iPad 2 launch yesterday, among them support for AirPlay video in third-party apps and on Websites, the ability to stream music from your computer's iTunes library directly to your iOS device via Home Sharing, and an option to use the iPad's side switch as an orientation lock or a mute control.
In addition, Mobile Safari features improved JavaScript performance thanks to the inclusion of the Nitro JavaScript engine from the desktop version of Apple's Web browser, and the iPhone 4 gains the Personal Hotspot feature.
Now that the software is available in a final version, expect to begin seeing iOS 4.3-compatible updates of third-party apps wending their way to the App Store ahead of next week's official release.
The GM release marks the first update to the iOS 4.3 since the third beta was released in early February. The full version will be available on March 11 as a free download to owners of the iPhone 3GS, the GSM iPhone 4 (that is non-Verizon iPhones), the iPad, and the third- and fourth-generation iPod touches. Developers who are members of Apple's iOS Developer Program can download the seeds now.