This week's iPhone 4 case roundup features a classy leather offering by none other than the luxury carmaker Bentley. The list also includes an aircraft-grade carbon-fiber beauty, a near-indestructible coat of armor, as well as some snazzy artistic designs. Read on for more ways to pamper your iPhone.
Bentley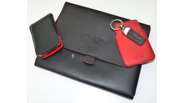 You might not be able to afford a Bentley car, but a Bentley-branded iPhone case ($73) is well within reach of the not-so-filthy-rich. The case, made in conjunction with Bentley's "luxury leather partner" Ettinger, is handmade from red and black leather and features a design inspired by the Beluga and Hotspur interior trim colours of the Bentley Continental Supersports car.
Bioserie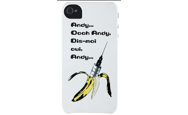 Environmentally friendly casemaker Bioserie has released the Printed iPhone 4 Cover ($35). Like the rest of Bioserie's cases, the Printed iPhone 4 Cover is made of plant-based, plastic material and features a scratch-resistant coating. The case is available in a wide variety of edgy, psychedelic printed designs. According to Bioserie, each pixel on the case is printed through a separate and precise ink placement, resulting in excellent color reproduction.
Element Case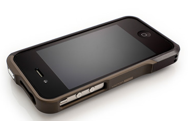 Element Case has launched a new version of its high-tech Vapor Case, the Vapor Pro ($150). The rugged, lightweight case, which will be available through a limited first run, is forged from aircraft-grade carbon fiber and sports an abrasion-resistant electrolytic coating. The profile of the Pro is slightly taller than that of the Vapor 4 for greater impact protection, and the Pro has larger connector cut outs for use with a wider range of aftermarket cables and headphones. The case also comes with its own zippered carrying case—that's right, a case for a case and a special hex tool that can be carried on your keyring for easier removal and installation.
Griffin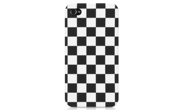 It seems we can't go a week without a new artist-branded case popping up, and this week is no exception, with Griffin releasing the Rick Nielsen Signature Case ($25). Rick Nielson, the guitarist and songwriter for the band Cheap Trick, is known for his checkerboard motifs, and now you can sport his signature look on your iPhone. The snap-on shell case provides impact and scratch protection for your phone while boasting a rockin', Rick Nielsen-approved checkerboard design. It even comes with two matching Rick Nielsen guitar picks.
Jivo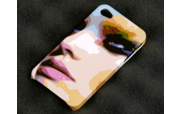 Jivo's Wrapture case ($35) features stylish print graphics inspired by today's fashion, culture, and music and sports a durable, lightweight, one-piece design. Custom-fit contours and openings allow access to all ports, sensors, cameras, and controls, and you can choose between six striking graphic designs.
LifeProof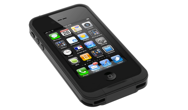 For a case that can handle the most rigorous aspects of life, check out LifeProof's LifeProof case ($70). The super-rugged case is built to withstand water, dirt, snow, and shock without breaking a sweat—or your phone. But unlike a number of super-tough cases, the LifeProof case offers this protection while adding minimal bulk to your phone. In fact, the case weighs less than an ounce and adds just 1/16 of an inch to the your phone's thickness. Not bad for a case that can withstand two meters of water and two-meter drops onto any surface.
USBFever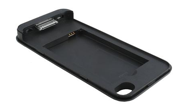 USBFever's Power Pack with replaceable battery ($80) consists of three parts: a bumper case, a back cover, and a 1400mAh battery. The case sports a slim design and is available in four different colors. Best of all, if you run down your case's battery you can replace it with a new one ($13) and keep the good times rolling.
Verizon case updates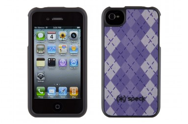 Speck: Speck has updated a number of its cases to fit the Verizon (CDMA) iPhone 4. The PixelSkin HD ($30) is a high-contrast skin case that sports a rubbery, matte finish and an artsy, pixelated design. The GeoMetric ($30) boasts a slim, angular design and features contrasting-textured facets and a contoured fit. Finally, the Fitted ($30) combines hardshell protection with fabric-wrapped style in a form-fitting, two-piece package.