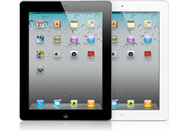 You may not be able to place an order for the iPad 2 until the new tablet arrives a week from Friday. But you will have a wider ranger of shopping options compared to what was available a year ago for the original iPad's launch.
Here's a breakdown of where you can get your hands on an iPad 2 when the tablet debuts on March 11.
Direct from Apple
As with any Apple product, you have the option of getting the iPad 2 straight from the source. If you want to buy the new device directly from Apple, you've got the same choices as always—online or in-person at an Apple Store near you.
Online ordering has a bit of a wrinkle this time around. In the past, you could go to Apple's online store and place an order for a product that had been announced but wasn't yet shipping. Pre-order your Apple goodie early enough, and you could even be assured of receiving it the same day it arrived in stores—and sometimes a day or two early.
That's changed with the iPad 2—online orders won't begin until March 11, the day the new tablet hits stores. On the bright side, Apple is offering free shipping for the iPad 2.
Update: A week after we originally published this story, Apple announced the particulars of online ordering. You can place an order through Apple's Website starting at 1 a.m. PT on March 11.
If getting an iPad on the day it launches is key to you, you can always hit one of 236 Apple Stores in the U.S. The downside: That will mean waiting in line. With the iPad not going on sale until 5 p.m. local time on March 11, you can also expect queues to get quite lengthy, with some Apple fans lining well in advance for a place near the front. That happened with last year's iPad launch, where the lucky person at the front of the line at the Fifth Avenue Apple Store spent the night there. And that was when Apple still took pre-orders for the iPad.
As a further incentive to brave the crowds of next Friday's iPad 2 launch, Apple is promising free personal setup for your new tablet. Store staffers can also advise you on rate plans if you're opting for a 3G-equipped model. (We've got our own comparison of AT&Ts and Verizon's plans for your reference.)
Of course, there's an easy enough way to avoid long lines at an Apple retail store—wait a few days for the initial crush of early adopters to die down. If history is any guide, a week after the iPad 2's release, you should be able to stroll right into an Apple Store and pick up a new tablet without much of a wait… other than the seven days you've already waited while other users got first crack at the iPad 2, that is.
Other outlets
Since releasing the first iPad in April 2010, Apple has expanded the retail reach of its tablet to stores run by its cellular network partners, AT&T and Verizon, as well as general-interest department stores like Walmart and Target. That trend is continuing with the iPad 2 launch.
Verizon this week confirmed that it would be selling the iPad 2 at launch, while AT&T was being more circumspect with its plans. "We haven't announced details yet," an AT&T spokeswoman told Macworld on Friday.
Walmart is already featuring the iPad 2 on its Website, and a Target spokesman on Friday confirmed that chain would be selling the new device "on or around March 11." (Target is also promoting its electronics trade-in program, available at more than 800 of the company's stores, that will let customers trade in first-generation iPads for store credit starting on March 13.)
"We anticipate our guests being really excited to get the latest technology," said Target spokesowman Kristy Walker.
The new tablet will also be available at Best Buy, which is featuring the device on its Website.
So far, there have been no signals as to whether online retailers like Amazon would be able to sell the iPad 2 at launch. But Apple-authorized independent retailers, like Springboard Media in Philadelphia, anticipate offering the new device immediately.
"I think it's going to be huge," said Everett Katzen, Springboard's president. "I think if people weren't waiting for new features, they didn't want to buy an older model. Ever since Christmas, I've been hearing that people are waiting for the new model to buy an iPad."
Peter Fader, who watches the consumer electronics industry from his perch as the co-director of the Wharton Customer Analytics Initiative, says the expanded market placement for the iPad 2 will help Apple ward off its burgeoning tablet competition. There's little danger that expansion will dilute the Apple brand.
"I think it's brilliant. The broader (the marketplace) the better," he said. "It might be an issue at the outset of a product, when you want to create a certain kind of cachet. The iPad is past that. There's obviously competition on the horizon, so you want to crowd them out on the shelf."
Updated March 10 with new information on online ordering.