Editor's Note: The following review is adapted from Five Star Apps: The Best iPhone and iPad Apps for Work and Play by Glenn Fleishman. (2010, Pearson Education and Peachpit Press).
Before the modern scientific method, many cultures believed that all material things comprised varying proportions of fundamental elements, like earth, water, fire, and air (and sometimes the ineffable aether or ether). Doodle God from JoyBits plays off this cultural history by offering you the chance to mix and match four starting elements to create (at this writing) 246 organisms.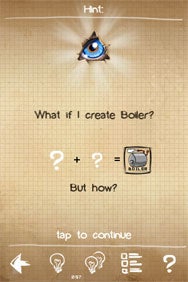 You start with basic mixtures. Fire and water become lava. Sand and earth become clay. And so on. But you soon start reaching fascinating patterns, like plugging Life and Swamp together to get a living, moving creature. Mythical creatures can also easily result. I crossed fire with a bird and ended up with a phoenix; clay plus life brought me a golem. As you advance through combinations, you also pass into new levels in which a number of older creatures or substances disappear and new categories show up. Good and evil make appearances as you ascend the godhead.
This is no kingdom of life: some combinations are rather bizarre. This can lead to tedious game play. At certain points, I hit a wall and couldn't find any additional combinations, which led me to cycle through every combination methodically, which is not fun at all. It's also easy to jump ahead and create a more advanced element (like a steam engine) when you otherwise have things like mud and lizards.
Fortunately, a light bulb button at the bottom gives you hints that may lead to the right conclusion. I was stumped at one point, until I was clued in that I could make coffee (seeds plus energy). A set of double light bulbs shows you the two categories that contain elements that might combine. After getting a hint, you have to wait a few minutes to get the next one.
You can review a list of combinations you've made that turned into new elements. If you've connected up with Facebook, you can tap a row, and then tap a Facebook logo to post the recipe to your Wall. Of course, your Facebook friends may get irritated when you reveal combinations they're not yet aware of and wanted to discover on their own.
I played Doodle God for many, many hours in increments of a few minutes here and there until I managed to create nearly 200 objects and "win" the game, unlocking further games. The unlocked items aren't nearly as interesting as the main challenge, which has little incentive to play again from the start. Nonetheless, many hours of engaging play for $1 is still a bargain. And now I can add alchemist to my resumé.
[Glenn Fleishman is a senior contributor to Macworld.]