On Wednesday, Electronic Arts' EA Mobile and Chillingo divisions unveiled their latest iOS game titles at the Game Developers Conference. The games, which span a variety of genres, shed light on how Electronic Arts is handling Chillingo after it acquired the developer last October.
Chillingo continues to co-develop and publish creative, casual-focused games. At the same time, Chillingo is also exploring new ground with two titles that suggest a new move towards attacting the male 18-to-35 demographic. Meanwhile, EA Mobile is taking a cue from its publishing partner and creating more original casual franchises, in addition to its usual ports of successful franchises.
Liqua Pop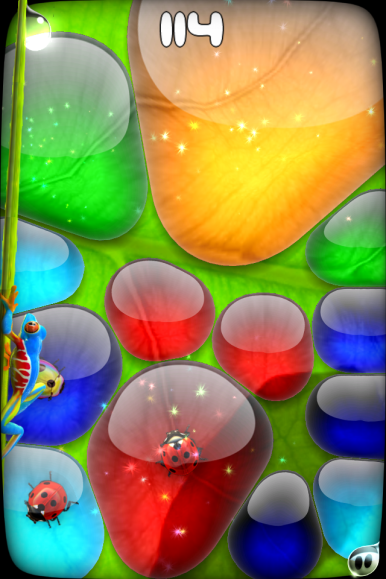 Due out March 10 (price not available), EA Mobile's Liqua Pop is a "match-colors" casual iPhone game that promises to be as addictive as it is colorful.
Set on a vibrant leaf, you need to use your iOS device's touchscreen controls to drag differently-colored liquid droplets together until they're big enough to pop. By clearing the stage of the liquid blob, you get more points. Of course, while you're popping liquid blobs, the top of the screen is filling up with more.
You need to keep track of the power-ups (identified by the bugs that are contained within the droplets) to ensure you'll get the maximum points. Combos are key, as are fast reflexes.
Max and the Magic Marker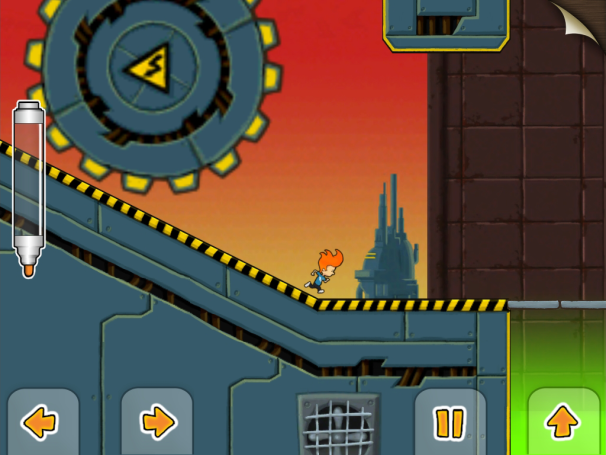 One of the more innovative and kid-friendly games to grace the Mac last year, Max and the Magic Marker is coming to the iPhone and iPad later this month.
Featuring challenging platforming segments and a magic-marker mechanic that uses both your creativity and your puzzle-solving ability, many gamers will find Max and the Magic Marker appealing. While the original computer title featured longer levels, EA Mobile has decided to split up the game into smaller segments to allow for shorter game sessions. You can pop in and out in a few minutes, completing challenges and surpassing obstacles at your own pace. The faster you complete a level and the more objects you find, the better your star rating.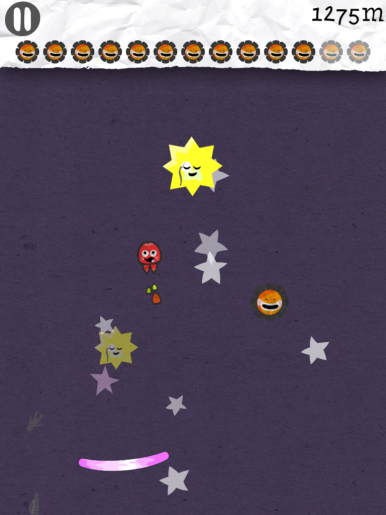 Draw Jump
Draw Jump is all about bouncing. Due out in late March, this game from EA Mobile and Pear Comp Productions tasks players with creating trampolines so that a little cartoon rocket named Cosmo can rise higher and higher in the world.
You create mini trampoline for Cosmo to jump on by swiping your finger on your iPhone or iPad to form a line on screen. Jumps take you from Earth to the upper levels of the atmosphere, and finally space itself.
With obstacles to avoid and power-ups to grab, Draw Jump is hoping to be the next impossible-to-beat-yet-oddly-addictive game.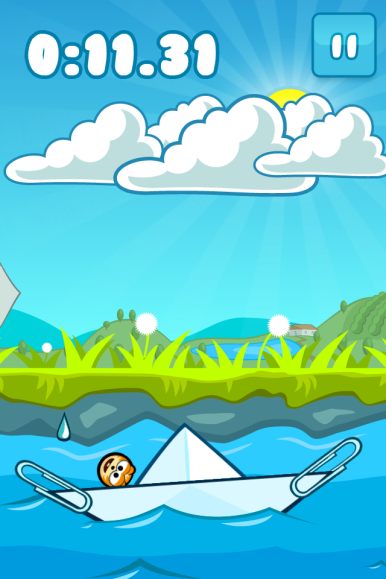 Don't Fall Off!
The game's title is pretty much all you need to know about this incredibly challenging and adorable casual game by Inlogic Software. The object is to prevent Rollie, a rotund animal, from falling off of a paper boat.
Of course, that's not so simple.You use the iPhone's accelerometer to keep the character balanced on the boat despite rain drops threatening to get him wet.
The game also offers power-ups like umbrellas and the ability to manipulate your environment (tapping on the sun, for example, will clear rainclouds).
Don't Fall Off offers a simple concept married to intuitive game mechanics that's to be easy to understand yet brutally difficult to master.
Coconut Dodge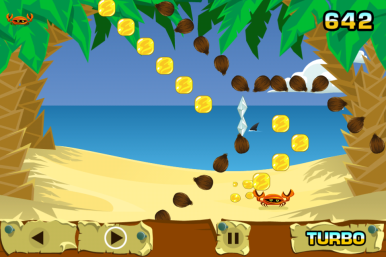 Meet Clawrence the Crab. He's got a coconut problem. He wants to collect all of the treasure he can but he's constantly harassed by coconuts. If Coconut Dodge sounds familiar, it's because FuturLab's game was a cult hit on the PSP and PSN.
You control a crab on a beach and guide him left and right across the screen to collect as much treasure as possible, without getting hit by the titular coconuts.
In each level (there are more than 30), there will always be an easier, safer route that will have fewer hazards but fewer bonuses, such as power-ups. But if you enjoy risk (and have fast reflexes) there's plenty of challenge and gold to be had.
Coconut Dodge is due in late March.
Blobster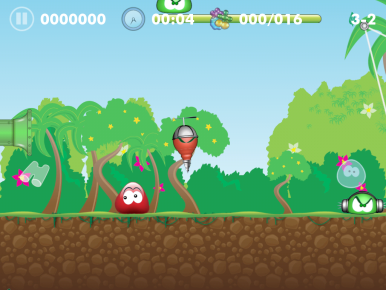 Chillingo also demoed several titles the company is publishing under its label. The first, Blobster, was developed in partnership with Divine Robot. The game is due in late April and according to Divine Robot, will likely be available for download for $1.
Blobster is an adventurous platformer with a twist: you're guiding a liquid blob. Using an iOS device's touchscreen, you must pull on your blob and sling him safely around the stage.
You'll be confronted with opportunities to grow your blob, defeat enemies, collect powerups, and save the environment. Using distinctive liquid dynamics, your blob will grow, react with realistic elasticity to physical stimuli, and look pretty adorable.
Available on the iPhone and iPad, the only difference between the two titles is a virtual joystick for flicking on the iPad version.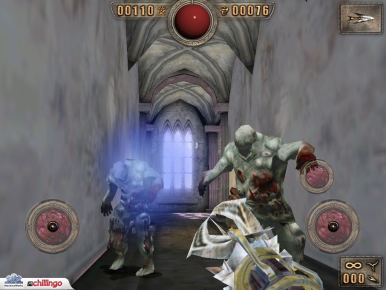 Painkiller Purgatory
Powered by Machineworks' own Ripp3D Engine, Painkiller is Chillingo's answer to iconic first-person-shooter Doom.
Due out later this month, this demonic FPS features over-the-top weapons, gruesome-looking enemies, and an iconic, foreboding setting. "We wanted to make a pedal to the metal, hardcore action game," explains Andreas Vasen of Machineworks.
The build I saw featured evil armored dogs, some kind of weird demon things that spit acid, and other hellish beasties. The environments were all well detailed, if a little drab, and the weapons were certainly creative. I used a spinning-three-bladed melee weapon to make dog-food out of a few demons.
The alt-fire mode on all weapons (which Machineworks claims is a first on an iOS device), was also a cool bonus.
The current build looked a bit choppy with its 3D models, however, and the enemies were barely recognizable, other than to say they were ugly.
In order to fit massive levels with such high-end graphics on your iOS device, Machineworks will ship the game in installments. You download one level and one boss at at time, rather than a complete game.
The tradeoff is that despite the game's high-end graphics, Machineworks claims it can run on virtually all iOS devices, "down to the first generation iPod touch."
Anomaly Warzone Earth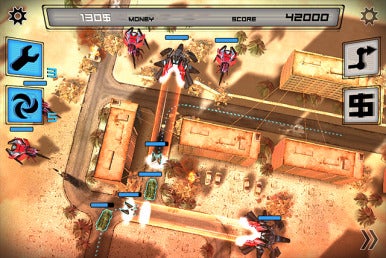 The tower-defense genre is pretty tired these days. Developer 11-bit Studios has a simple-yet-elegant solution to refresh the genre—reverse it. Instead of defending points, your job is to attack and destroy certain alien targets and help liberate Earth.
Anomaly Warzone Earth takes place in a future version of Earth where there's been an alien invasion. Humanity's Earth-defense forces are striking back at the insectoid buggers, and it's your job to lead them.
There's a tactical view where you see your troops as they advance along paths towards the enemy positions. You can deploy power-ups like healing, smokescreens, and weapons drops from this conventional 3D view. But from here you can also pause the game and buy replacement squads at anytime. You'll be able to purchase more advanced troops (and upgrade the armor you already have) by defeating enemies and collecting resources.
You'll also be able to set the routes your troops will take, so you're not just throwing them into a meat grinder. Certain enemy structures can only attack you from certain angles, and figuring out how and where to deploy your advancing troops is critical.
Thanks to 11-bit Studios' engine, Anomaly Warzone looks great with 3D graphics and multiple views of the battlefield. The title has already received considerable buzz from the Independent Games Festival.
Published by Chillingo, look for this title in the coming months on Steam for the Mac and the iPad.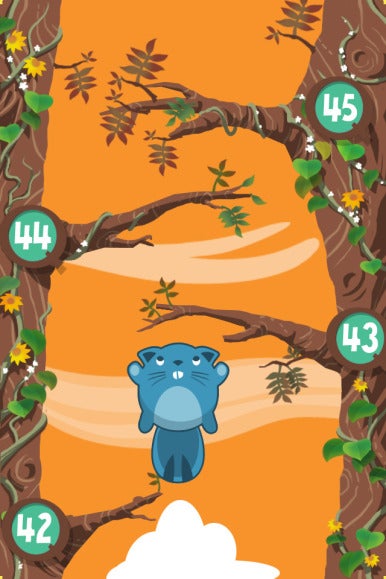 Quiz Climber
Quiz Climber is a cute quiz game featuring chipmunks. The premise of the game is extremely simple: answer questions correctly to advance your chipmunk up the tree.
As you play, you'll see other chipmunks resting on branches (these represent other players' high scores). The game will be compatible with the Crystal social gaming platform, so you'll be able to connect with friends who play Quiz Climber, and see their high scores as you play.
The questions range from easy to tricky, and supposedly get harder the higher you go (I didn't notice much of a difference, but perhaps I didn't get high enough).
Players get one "lifeline," which is actually just a "life." I'm not sure why it's called a lifeline, or why players are allowed to choose whether they want to use it (if you don't use it…you die), but perhaps Chillingo will introduce more functionality before the game is officially released.
At the moment Quiz Climber is still in alpha build, and it looks the part—there are no options, there's no way to choose a categories of questions (though Chillingo hinted that this may be a feature, later), and you only have one life before you fail. Still, it's a cute take on the quiz game, and with some work it could be a hit. Quiz Climber is coming in April.
Storm in a Teacup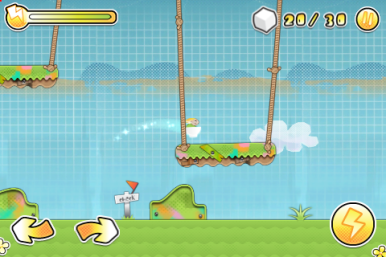 Storm in a Teacup is a whimsical platform game that's reminiscent of retro games like Super Mario.
The character, Storm, whisks around the landscape in a teacup, collecting sugar cubes and avoiding storm clouds and sharks.
The controls are simple—left and right arrow buttons and a lightning button that allows your character to jump.
Gameplay is fairly smooth; in fact, the smoothness can be a problem, as you may find yourself sliding off of platforms when you don't want to.
The graphics look especially good on the iPhone 4's screen, and the game is cute and family-friendly—even when you die, your character bursts into black confetti. Storm in a Teacup is coming in April.