Picturesque is a clever $1 interactive iPad canvas for kids. You choose a colorful background, select adorable characters and objects to place on that background, and position them wherever you'd like.
The app from Kelibo has plenty going for it. My 4-year-old daughter ran over to see what I was doing as soon as she heard its entertaining background music and sound effects. Picking a background was simple, and while tapping onto a character to place it took a little patience (because the tapping targets are so tiny), both my daughters and I found it fun to create scenes by placing giraffes, cows, sheep, flowers, octopi, and more all around the pretty, cartoony background we had selected.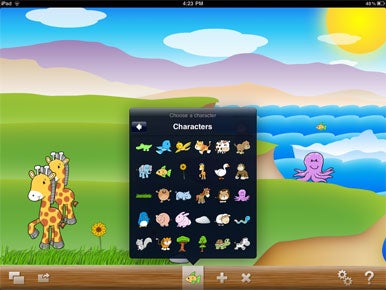 You don't resize the images you place in Picturesque yourself; instead, the app automatically adjusts them based on the approximate perspective depending up on where you place them.
My only real complaint about the app—which, to be clear, entertained my kids for an impressively long time—is its lack of art options. There are currently just two backgrounds to work from, a grassy cliffside beach, and outer space. My girls and I wanted more backgrounds to play with, and more characters to place on them. (You might find more options, for example, in either the iPhone or iPad versions of Doodle Buddy or KidArt, an iPad-only app.)
Still, there's plenty of fun to be had in Picturesque, and the app makes it easy to share your photos via e-mail. I hope that the developer will add more backgrounds, and perhaps add the ability to add characters to your own saved photos on the iPad, too. Even as is, though, my kids are thrilled with the app.
[ Lex Friedman is a frequent contributor to Macworld.com]