This week's launch of a new iPad certainly means a parade of iPad 2-ready cases tailored for the tablet's new design. But iPad owners don't live by cases alone—plenty of other accessories aim to make your tablet experience more complete, and manufacturers are racing to come out with iPad 2-compatible versions.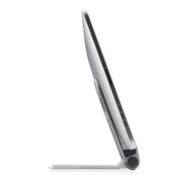 Here's a rundown of some of iPad accessories making news this week, whether they're entirely new offerings or products being retooled for the iPad 2.
Belkin announced new stands for viewing the tablet: The FlipBlade Adjust is a thin, portable stand that flips open to four viewing angles, while the ViewLounge provides a grippable beanbag base good for use on a variety of surfaces. Belkin hasn't set a price on these stands, but it says they'll ship during the spring.
Kensington is including its Virtuoso touchscreen stylus and pen among the products that "have been updated to meet the needs" of the iPad 2. The $25 device lets iPad owners running such apps as SketchBook, iAnnotate and Penultimate use the device for note-taking, filling out forms, and other handwriting tasks.
The company also touts its $25 PowerBolt Micro Car Charger and $30 PowerBolt Duo Car Charger as compatible with the iPad 2. The latter device lets users charge up their new tablet and one other device simultaneously while on the go.
PadTab says it is planning an array of iPad 2 accessories in coming months. But its existing tablet mounting system is already compatible with the new device. The $20 PadTab allows for hands-free use of an iPad by letting users mount their tablet on a wall, door, refrigerator, or other surface. The product is available at Amazon.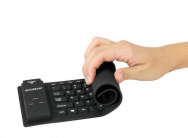 Devices from Scosche Industries include the FreeKey Bluetooth keyboard, a $60 device that rolls up like a yoga mat and offers a 30-foot wireless working range. Charging options range from the $18 PowerPlug for car use all the way up to the $80 GoBat II, which acts as both a portable charger and backup battery; the company also offers its TapLine II series of headphones and SneakPeek II lineup of audio-video outputs for the iPad and other devices.
The iPad 2-compatible products are available for viewing on the Scosche Industries's Website, but most won't ship until mid-March.