At a Glance
Expert's Rating
Pros
Easier-to-use, updated interface
Support for multiple simultaneous burners
Spin Doctor now supports capturing from individual applications
Direct upload support for YouTube, Vimeo, and Facebook
Improved update process
Cons
Spin Doctor somewhat buggy
Provides rudimentary tools for editing video destined for the Web
Our Verdict
On Tuesday, Roxio released Toast 11, the latest version of its $100 CD/DVD burning and video conversion software. Big changes include a new user interface, built-in tutorials, multiple burner support, subtitle suport, and hardware-assisted video encoding.
As in the past, Toast includes a bunch of additional apps: Disc Cover 3 RE, DiscCatalogMaker RE, Get Backup 2 RE, Mac2TiVo (for sending files to a TiVo DVR) and TiVo Transfer (for pulling content off your TiVo), and a new version of Spin Doctor (formerly CD Spin Doctor). The Streamer app is no longer included, however.
I got a chance to play with a pre-release version of the software, and here are some of the cool new features and how they work.
Installing and updating
The first change longterm users of the software will notice takes place very early on. Rather than a folder you drag to your Applications folder, there's now an installer. While not a big deal in itself, it does signal an important change to the way Roxio handles the various apps in the Toast package.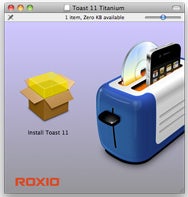 In the past, any time there was an update to Toast and/or its bundled apps, you'd have to log into the Roxio site, download a disc image with the entire suite of apps (even if nothing changed in the majority of them), and then replace your Toast folder with the updated folder. I've always found this process to be annoying and needlessly complicated. With Toast 11, that pain is a thing of the past. Toast and many of the included apps now take advantage of the Sparkle update-checking and -installing framework (and those that don't have options to help you find updates as well). What that means is no more logins and downloading huge disc images to make sure your apps are up to date.
New user interface
Although Toast has always had a lot of power, it wasn't always easy to figure out how to make everything work. To start with, there's now a Tutorials section that includes screencast videos (and links to step-by-step PDFs) walking you through several common tasks.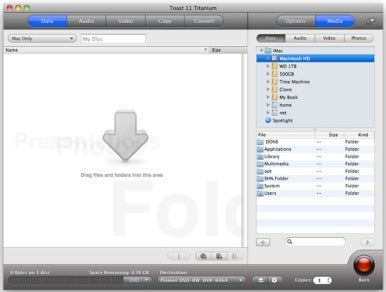 Even after that, though, there are general improvements to how you find your way around the software. Activities are still grouped into the same five categories (Data, Audio, Video, Copy, and Convert), but previously they were listed by icon only until you clicked on one. Now, you can clearly see the names of all the categories. And instead of being smashed into one corner of the UI, the categories are displayed as tabs that run across the width of the content window. Whether you're new to Toast or have been using it for years, you'll probably appreciate the refinements to some often perplexing interface choices of the past.
There's also a new Assistant window that can show you common projects for each category, along with descriptions and big icons, or an Advanced view that lists all the available options.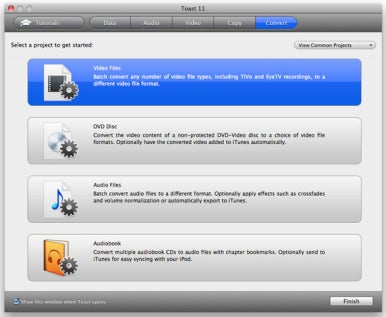 And there are other small but useful changes. The big red button in the lower right corner has a black ring around it and is labeled with the word Burn, Copy, or Convert (depending on the type of project you've created) instead of, well, just being a big red button. You can choose a burner and its settings, as well as the number of copies you want to burn, directly from the main window. And you can now view the Media Browser as a separate floating palette (as before) or integrated into the main UI. You might even notice that Toast icon now has a disc and an iPhone coming out the toaster rather than two discs—a nod to the waning importance of physical media for many users these days.
New video features
Toast 11 expands its video format support, adding presets for the iPhone 4, Android phones, Windows Media Video, DivX Plus HD, and MKV, as well as Internet-specific presets for YouTube, Facebook, Vimeo, and F4V Flash video.
You can also have Toast publish directly to online services and even tweet the link to the video—I added a 720p video shot with my iPhone into Toast, trimmed it, and uploaded it directly to my Vimeo account. While the process wasn't as smooth as using iMovie—for example, the Title field was blank even though I'd already given my video a name in Toast—it did take me directly to the video page on Vimeo when it was finished uploading (a nice touch). However, the big problem for me was that the quality of the video it created (even at the High quality setting) wasn't as good as the version that iMovie made from the same footage. That's because iMovie uses twice the data rate (and produces videos with twice the file size) as Toast's Vimeo preset. Roxio says it plans to bump the data rates up in an update. But since I typically combine multiple clips into one movie and edit them together with transition in iMovie, I don't expect I'll be using Toast to upload my videos anyway.
At the same time, you can now create custom video profiles, tweaked from one of the built-in presets. This could be useful if you want to convert video that will look good on all your particular Apple devices, say. But (presumably to ensure compatibility) you can't change the settings for the Internet video presets for YouTube, Facebook, or Vimeo.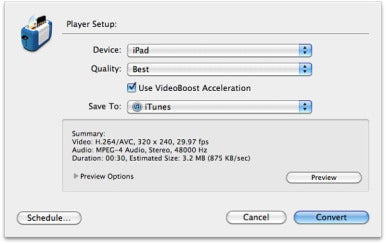 A new feature called VideoBoost can take advantage of the GPU in some newer Nvidia graphics chips/cards to speed up H.264 video conversion. If your Mac supports it, a Use VideoBoost Acceleration option will show up in the Player Setup window. (My iMac with Nvidia GeForce 8800 GS graphics isn't supported.) The speed benefits should be similar to using the $100 Elgato Turbo.264 HD ( ) USB stick (and in case you were wondering, you can't use both at the same time).
Also, you can now schedule video conversions for a later time; when converting video from unprotected DVDs, you can include any of the subtitles from the DVD burned into your exported video; you can play back HD content burned on standard DVDs (the HD/BD plug-in, required for HD authoring on standard or Blu-ray discs, is still a $20 add on, or comes as part of Toast 11 Pro); and you now have the ability to add manual chapter marks as well as better control over the trimming of clips.
Audio improvements
One new audio feature is called Audio CD Spanning. Like iTunes, it lets you add as many tracks as you want for burning and breaks them into the number of CDs needed to do so. Unlike iTunes, however, you can determine which tracks go on which CDs, as well as apply Audio Units filters to your tracks.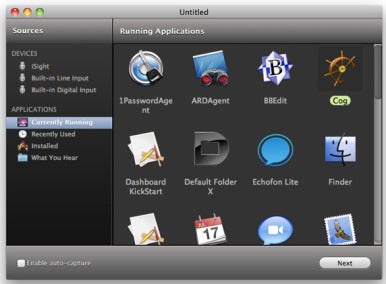 A new version of Spin Doctor (which Roxio also refers to as SDX) adds some cool new features. You can now record audio from any individual app on your Mac, in addition to the ability to record line input of tapes or LPs. Spin Doctor captures audio at 20MB per minute (32-bit stereo at 44.1kHz) CAF files, and you can export the audio in a variety or formats, or send the audio to Toast or iTunes. I was able to capture the audio coming from several apps, but when I tried to capture music that was streaming in Safari from my Napster account, the app caught only silence. When I switched to the What You Hear option in Spin Doctor, I was able to record the audio, however.
Spin Doctor can also connect to the MusicID service to identify the music you've recorded. I tested it out with part of a Weezer song I recorded from Safari, and it was able to identify the artist, album, and song. It didn't put that info into the songs tags when I exported it, though. Another time the app crashed when trying to end a recording of a song playing in iTunes. Roxio expects to fix several issues in an upcoming update to the software.
Other changes
For the first time, Toast now supports simultaneous burning to multiple drives—this lets you create two copies of the same disc, say, if you have both an internal and and external CD/DVD burner. Roxio has also improved the DVD clip extraction feature for use with unprotected DVDs, image files, and Video_TS folders. Borrowed from Roxio's Popcorn 4 software, the new interface lets you easily select multiple clips from various titles to export as individual movie files.
Toast 11 Pro
In addition to the standard Toast 11 Titanium, Roxio also offers Toast 11 Pro, which includes all the same things as Titanium but adds the HD/BD plug-in, a full version of Adobe Photoshop Elements 9 ( ), FotoMagico 3 RE, SoundSoap 2 SE and the SoundSoap Audio Units plug-in, and Sonicfire Pro 5. Elements 9 is $99 by itself, so if you don't have a copy yet the bundle is a really good deal.
Pricing
Toast 11 Titanium costs $100, and Toast 11 Pro is $150. Owners of Toast 10 can upgrade to Toast 11 for $60, or Toast 11 Pro for $100. Owners of Toast 9 or earlier can upgrade to Toast 11 for $80, or Toast 11 Pro for $130. All upgrades take advantage of instant discounts (no rebates involved).