Love using Pandora's streaming music service, but hate relying on a Flash-based browser plug-in to enjoy your tunes? There's a Mac app for that, and it's called Pyrcast.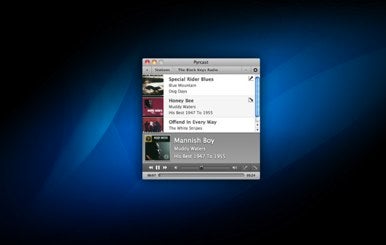 Alex Winston's Pyrcast is a simple app that lets you enjoy most of Pandora's internet radio services without having to keep the Pandora Website open in your browser. You can listen to and manage stations from your existing Pandora account, rate songs, view song history and album artwork, and use global key commands to pause and skip playback. You can also set up Growl notifications to inform you of each new song that plays—a feature that alone might be worth the price of admission.
The app typically features a drop-down Menubar icon that lets you control your stations, but this feature has been temporarily removed in a recent 2.0 update due to bugs. The developer says that the Menubar icon should return in the next update, however.
Pyrcast is available now at the Mac App store for $5, and runs on OS X 10.6 or later. A free Pandora account is required to use the app.