It's been about a year since the original iPad was unveiled and anointed by old-media publishers as perhaps the Last Great Hope to get readers to start paying for news again. Since then, though, major newspapers like the New York Times and Washington Post have edged their way haltingly (but never completely) toward a pay model for their tablet apps. But the Big Apple's raucous, warring tabloids are plunging ahead where others fear to tread—the New York Post and the New York Daily News are both charging readers $2 apiece to download their respective apps, and a few dollars more if they want to stick around.
Unfortunately, there's not a lot of imagination involved in the production of these tabloid apps—no rethinking of how the news might be presented differently or more daringly in the tablet format. In the case of the New York Post, that's somewhat surprising: owner Rupert Murdoch spent $30 million to launch his iPad-only "newspaper," The Daily, and you'd think some of that investment would spill over into special features for one of his other major news properties.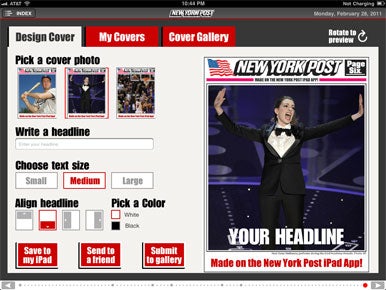 Instead, the New York Post iPad app offers little more than a glorified PDF version of its newsprint edition. There are some special features—readers can create their own versions of the Post's notoriously provocative and pun-filled front pages, and the Post's gossip and sports sections include the occasional photo slideshow unavailable to print readers. (You can also download and save issues for future reference.) Other than that, though, the outside linking and interactivity is largely limited to the advertisements. And a month after you buy the app, you'll be required to buy a subscription to keep reading—$7 a month or $75 a year.
But the if Post app is limited, it is still beating the pants off the New York Daily News. Your $2 gets you access to a revamped version of the Daily News' free Website—complete with video and photo galleries. You can also view the "paper" version of the tabloid, although the few hints at interactivity on the Post's app are nowhere to be found here: You're just staring at a digital version of the printed page. The Daily News' chief advantage over the Post is price: after the first month, a subscription costs $8 for six months or $12 for the year.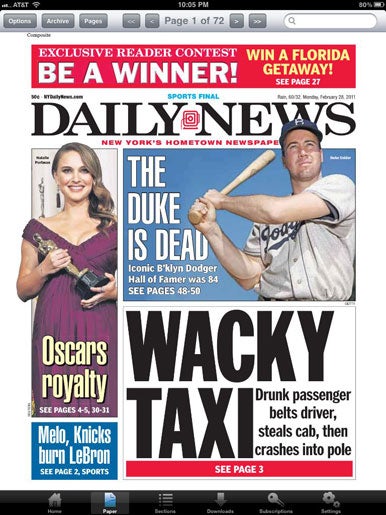 So why buy these apps? Well, if you're a New York lover but live too far away to hit the newsstands every morning, you might find some digital comfort in perusing facsimiles of the city's famous tabloids. If you live in the city—and have a Wi-Fi-only version of the iPad—you'll be able to download your paper before you head to the subway for your commute. If you're environmentally inclined, well, at least you're saving paper this way.
The Daily News' tagline for its iPad app, in fact, is "The paper you love, only digital." That about sums up the missed opportunity with these two offerings. If you're already reading the New York tabloids online for free, there's precious little reason offered to start paying for the privilege on the tablet. Give these newspapers credit for taking action where other news organizations have been stymied. It's just not quite enough.
[Joel Mathis is a freelance journalist and political columnist for Scripps Howard News Service. He lives in Philadelphia.]
Note: When you purchase something after clicking links in our articles, we may earn a small commission. Read our affiliate link policy for more details.