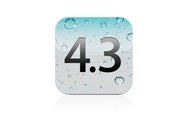 Apple on Wednesday released iOS 4.3 for the iPhone, iPod touch, and iPad. Available first as a developer beta almost two months ago, the update is now available to all users for free via iTunes. It brings a handful of new features to Apple's mobile devices including AirPlay for all third-party apps and personal hotspot support.
Headlining the iOS 4.3 update is support for AirPlay across all apps. This feature first appeared in iOS 4.2, allowing Apple's iOS apps to stream audio, video, and photo slideshows to a second-generation Apple TV. Apple opened up the feature in iOS 4.3, which means developers of media apps like Pandora are free to update their wares, if they choose, and offer AirPlay features to users.
iOS 4.3 also brings support for creating a personal hotspot, another increasingly popular feature among other smartphones and one that appeared first in the Verizon iPhone 4. This feature allows your iPhone 4 (and only the iPhone 4; sorry, owners of any previous models) to act as a portable Wi-Fi router for up to five devices, powered by the device's wireless data connection (you can connect up to three devices via Wi-Fi, three via Bluetooth, and one with a USB cable). You'll need a qualifying data plan from your carrier and any necessary hotspot or tethering options to enable this feature.
In the U.S., for example, AT&T requires that users have its $25 2GB DataPro plan and $20 hotspot option, which adds adds a 2GB bucket of data for hotspot-connected devices. If users exceed that initial 2GB with hotspot tethering, they can dip into their iPhone's existing 2GB data bucket before having to pay overage charges. Unfortunately, AT&T users who kept their unlimited data plan when upgrading to an iPhone 4 would have to switch to the DataPro plan in order to use tethering. Verizon also allows customers to add the hotspot option for $20 on top of their $30 unlimited data plans, though the carrier only allows a 2GB data allowance for hotspot-tethered devices before overage charges of $20 per gigabyte kick in.
iTunes Home Sharing, a surprise iOS 4.3 addition that Steve Jobs announced at Apple's iPad 2 event last week, allows iPhone, iPod touch, and iPad users to stream any of their iTunes media from a Mac or PC on the same Wi-Fi network. It's not an over-the-air media sync solution, however, like the Home Sharing feature Apple added to iTunes 9 to make it easier to keep iTunes libraries on multiple computers in sync. If your iOS 4.3 device leaves your home Wi-Fi network, you won't be able to stream iTunes media from your Mac or PC.
Apple claims to have made Safari's JavaScript performance up to twice as fast in iOS 4.3. Sites with interactive features, or rich Web apps like Gmail, should feel noticeably snappier. We used the Sunspider JavaScript performance test to compare a first-generation iPad and an iPhone 4 running iOS 4.2.1 and iOS 4.3, and the results were dramatic.

Apple also seems to have relented to user unrest after changing the behavior of the iPad's side switch. Since the iPad shipped almost a year ago, its side switch acted as a a display rotation lock. When Apple released iOS 4.2 last November, it changed the switch from a rotation lock to a mute switch, without even offering an option to change it back. Under iOS 4.3, the switch will still default to muting audio, but Apple added a new preference to the Settings app to let users enable the rotation lock behavior instead.
A couple of minor features snuck into iOS 4.3, including the ability to enable Push Notifications for Ping activity. But while Apple's release notes state that iOS 4.3 allows us to post to Ping and "like" songs from the iPod app's now playing screen, we cannot find this feature on either the iPhone or iPad. Also new is a preference to specify how many times an SMS alert is repeated, as well as a conference dialing option to add a pause for entering a passcode.
Missing from iOS 4.3, however, are the new multitouch gestures that Apple asked developers to test on the iPad during the beta period. Gestures like four- and five-finger swipes could switch between apps and reveal the multitasking bar, and a pinch could exit an app and return you to the Home Screen. With the second iOS 4.3 beta, however, Apple clarified that these features were only for testing and would not ship to consumers in the final version. Obviously, they could return in a future iOS update or upgrade, but Apple hasn't stated any plans.
As with most OS updates, Apple has also fixed a number of security issues with iOS 4.3. Detailed in this support document, iOS 4.3 brings quite a few fixes to apps and components across the board, including Safari, the WebKit engine that powers Safari, Wi-Fi and networking connectivity, image processing, and more. Apple also released iPhone Configuration Utility 3.3 for Mac and Windows, though details on what's new are nowhere to be found. Presumably, the new version adds support for managing devices that run iOS 4.3.
iOS 4.3 is available now as a free update in iTunes for the iPad, iPhone 3GS, the GSM iPhone 4, and third- and fourth-generation iPod touch. As for the Verizon iPhone 4, it runs a custom version of iOS 4.2.6 that includes some features like hotspot support. Comments from an Apple representative to Ars Technica at the iPad 2 event suggest that it might take a little while for Verizon's iPhone 4 to converge with the same iOS version as Apple's other mobile devices.
Updated at 10:20 a.m. PT to add more information on Ping features and preferences in Settings. Updated at 11:00 a.m. PT with information on the security updates in iOS 4.3. Updated at 11:41 a.m. PT to clarify that the personal hotspot feature is only supported by the iPhone 4. Updated at 1:09 p.m. PT to add the iPhone Configuration Utility update and clarification on the seemingly missing 'post to Ping' feature.