At a Glance
Expert's Rating
Pros
Innovative touchscreen controls for focusing
Best-in-class video quality
Full manual controls for both stills and video
Tilt-and-swivel 3-inch LCD touchscreen
Comfortable ergonomic grip
Hardware controls for fast access to most settings
Extremely fast autofocus
Compatible with optional 3D lens for still photos
Cons
Big for a mirrorless interchangeable-lens camera
No optical viewfinder
No in-body image stabilization
Expensive
Might be better suited for video than stills
Our Verdict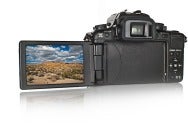 It may not be a "true DSLR," but the interchangeable-lens Panasonic Lumix DMC-GH2 has features that outclass some of today's DSLRs, and the camera may indicate where future DSLRs are headed with regard to controls and video options.
The GH2 offers touchscreen controls to accompany more-traditional buttons and knobs, and those touch controls are all the more engaging in a camera equipped with a large sensor, a high-quality lens, a fast autofocus, and high-end image quality. The result is a unique camera whose touch-to-focus controls enable you to pull off complex focusing tricks with ease.
Beyond the touchscreen, the GH2 is the most DSLR-like compact interchangeable-lens camera we've tested, due to its larger size and design. The Lumix GH2's video performance is very impressive, but its still-image quality is a notch below that of a true DSLR: Colors and exposure quality tend to look muted unless you dive into the camera's array of manual controls, which is a bit disappointing for a camera of the GH2's size and price. That said, the kit lens we tested it with was optimized for video and zoom range, so still-image quality is likely to improve considerably when you use the Lumix GH2 with a bright, prime lens.
Hardware and design
We tested the Panasonic Lumix DMC-GH2 as a kit with its video-optimized 14-140mm, f/4-5.8 optically stabilized lens. It costs $1500 as a kit in that configuration, $1000 as a kit with a 14-42mm stabilized lens, and $900 for the body only. The camera has a focal length multiplier of 2X for any lens attached.
Though the GH2's 16-megapixel CMOS sensor is the same size as its predecessor's, the Lumix DMC-GH1, the sensor now outputs higher-resolution images, and a new three-core Venus VI FHD engine handles the processing.
The GH2's body is only slightly more compact than that of a typical entry-level DSLR, at 3 inches deep, 4.9 inches wide, and 3.5 inches tall. Its body weighs 13.8 ounces without a lens attached; it's much beefier with the 14-140mm zoom lens mounted, at nearly 32 ounces. This is definitely more of an interchangeable-lens camera along the lines of a small DSLR than a semipocketable model like the Panasonic Lumix DMC-GF2 or the Sony Alpha NEX-5. Despite its physical size, it doesn't feel too heavy, and its textured, grooved handgrip is about as comfortable as a grip can get.
The GH2 offers a fast boot-up-to-first-shot time of around 1 second; it rattles off 5 frames per second at full resolution in continuous-shooting mode (or 40 fps at a reduced 4-megapixel resolution); and its autofocus system (dubbed "Light Speed AF") locks onto subjects almost instantaneously. In addition to supporting the traditional shutter half-press for focusing, the camera lets you focus by touching subjects on its 3-inch, tilt-and-swivel touchscreen; the autofocus reacts very quickly.
You can also use the touchscreen to navigate the GH2's in-camera menus, or you can rely on physical buttons for focusing, framing, adjusting, and menu diving. In fact, the top and back of the camera are so loaded with buttons, dials, and switches that the camera is a bit intimidating at first pick-up.
Shooting modes and features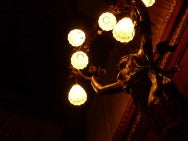 The GH2 has a wide array of higher-end in-camera features found in many DSLRs, including full manual controls, aperture- and shutter-priority modes, RAW/RAW+JPEG shooting modes, ISO equivalencies that range from 160 to 12800, a 23-area focus system, and a motion-tracking autofocus feature that supports a 5-fps continuous shooting mode at full resolution. The GH2 also provides a beginner-friendly collection of scene modes and an Intelligent Auto mode.
The manual shutter and aperture controls carry over to the GH2's high-definition movie mode, making it an extremely versatile hybrid device for both stills and video. The camera captures 1920-by-1080 AVCHD video at a maximum of 60i at 17 mbps, or at 24p at 24 mbps. Alternatively, you can lower the video resolution to 720p and record at 60p at 17 mbps.
The most innovative video feature is the ability to make smooth transitions between focus points simply by touching the LCD screen while filming, so you can achieve "rack focus" effects easily or maintain focus on static objects that aren't in the middle of the frame. The results raise already-great-looking video to the level of professional-quality film, especially if you record it at 24p. Here's an example of a quick-and-easy touchscreen-controlled focus change in a challenging backlit situation.
On-the-fly focus changes react quickly and smoothly when you use the touchscreen, but it works best when you maintain at least a foot of distance between focus subjects–and sometimes you'll need to tap the touchscreen more than once to get the desired effect to register. The touchscreen takes some getting used to in the "wow, this is new" sense; I often forgot that the camera's touchscreen was active, and wiping the screen clean with my sleeve led to about 10 accidental touch-shutter-triggered shots of my feet.
A video-specific Intelligent Auto mode, 18 different presets for adding video-based scene modes and color filters, and basic in-camera clip trimming and still-image frame grabs help make the GH2 an attractive video capture device for a wide range of skill sets. The camera allows you to adjust the speed of video playback from a slowed-down 80 percent to a sped-up 300 percent, just by making a few on-screen taps in its Variable Movie Mode.
During filming, the adjustable LCD screen is handy for shooting overhead and odd-angle shots, and its ability to focus precisely in response to touchscreen commands is downright revolutionary for a camera of this caliber. There is one quirk with framing handheld shots if you're filming from the hip or bracing the camera against your gut: The proximity sensor on the camera's EVF is so sensitive that it flips to EVF view if the camera is about an inch away from your body. You can easily remedy this behavior by turning the proximity sensor off in the camera's menus, but that option is buried fairly deep in the menus.
A built-in stereo microphone mounted on top of the camera's pop-up flash performs well for an on-board omnidirectional mic, and Panasonic also provides a mic-in port for use with with the company's shotgun mic (sold separately). In general, the built-in microphone performs quite well for casual videos, but a separate audio setup is advisable if you want audio controls that match the GH2's outstanding video capabilities.
The GH2 is also compatible with Panasonic's optional 3D lens (the dual-lens, $250 Lumix G 12.5mm / F12 H-FT012), but we were unable to test the camera with the 3D lens, and your 3D options are limited to still images.
Performance, image quality, and video quality
The Lumix GH2 turned in the best video-quality scores we've ever seen from any camera, period. It outscored every video-capable DSLR we've tested in our labs' subjective tests for video quality in bright light and low light, earning a score of Superior; audio capture from its on-board microphone als o was rated as Superior. Factor in the camera's extensive range of focusing and manual-control options, and the GH2 is unquestionably the still camera to beat when it comes to video capabilities.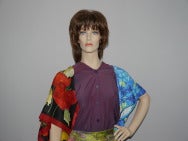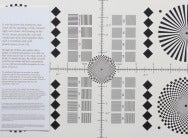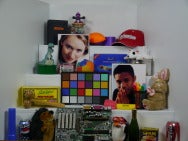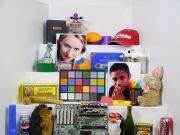 Still-image quality is strong, but not a home run as the GH2's video output is. In our subjective testing for photo quality, the GH2 earned scores of Very Good for sharpness and lack of distortion, a score of Good for exposure quality, and a score of Fair for color accuracy. In Intelligent Auto mode, the camera produced muted colors and noticeably grayer whites than other cameras in its class; but as with most Panasonic cameras we've tested, image quality becomes much stronger when you manually adjust the camera's exposure settings. In any event, still-image quality has improved significantly since the previous generation of Lumix G-series cameras, though it lags behind that of the DSLRs in its price range.
Click on the thu mbnails images at left to see the full-size sample photos used for our subjective evaluations. You can also watch our test videos below; click 1080p in the menu at the bottom right of each player to see the highest-resolution video.
The GH2's battery life is reasonably good, and with a CIPA rating of 320 shots per charge with the LCD turned on, and 330 shots per charge with the LCD off and the EVF enabled.
Physical controls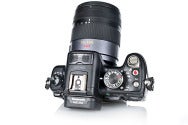 The top-left of the camera lets you toggle between manual focus, single autofocus, and continuous autofocus modes; and a knob lets you click between face detection, motion-tracking AF, 23-area focus, and single-area focus. The top right of the camera accommodates a traditional mode dial, which you can use to select manual modes, scene modes, Intelligent Auto mode, or movie mode. The dial also reserves spots for three customizable user presets.
The side of the mode dial has two toggle switches–one is the on-off switch, and the other lets you select between single-shot, burst mode, exposure bracketing, and self-timer shot. Along the top, you'll find the shutter button, a dedicated video-record button, a Function button that you can set to jump to a specific shooting mode, a pop-up flash, built-in stereo mics, and a hot shoe that accepts external microphones and flashes.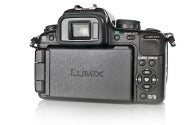 The controls-fest continues on the back of the camera, where a button below the focus selector lets you toggle between the eye-level viewfinder (EVF, which includes a responsive proximity sensor) and LCD displays, a playback button below the mode dial, an AF/AE Lock button below the on/off switch, and a thumb-controlled scroll wheel for aperture adjustments and other in-camera controls. To the right of the camera's LCD screen are eight more buttons: a Quick Menu button, a button to control the camera's display options, a four-way directional pad and center button for menu navigation, and a delete button. The directional buttons on the D-pad double as one-touch access controls for ISO adjustment, white balance, and user-defined function buttons.
The left side of the camera has two doors: One covers a port for an external mic or remote shutter control, and the other covers its HDMI-out and A/V-out ports. The right side of the camera has a third door that covers its SD/SDHC/SDXC card slot; and the bottom of the camera hosts the battery compartment and tripod mount.
Buying advice
With the field of Micro Four-Thirds lenses expanding, recommending the GH2 as a viable alternative to a similarly priced DSLR is easier now than it would have been at this time last year, especially for videographers. The GH2 sets a solid foundation with its best-in-class video quality, unique touchscreen controls, and 3D imaging capabilities. As a still camera, it's no slouch, but it falls to clear the DSLR bar. As a video-capture device, however, nothing in its class can touch it right now.