Foursquare, the location-based social network that proudly refutes your parents' lesson that "life is not a game," has announced a major upgrade to its iPhone app. Just in time for SXSW, where Foursquare debuted just two years ago, Foursquare 3.0 has gained a new "recommendation engine for the real world," a redesigned leaderboard, and new rewards that businesses can offer to customers who check-in.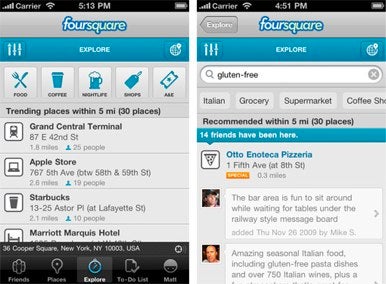 One of the biggest additions in Foursquare 3.0 is a new Explore tab, which leverages the service's growing knowledge about all the places its users visit, to provide recommendations for your next outing. You can pick stock categories like "coffee" or "nightlife," and Foursquare will recommend a few of your best options based on a blended list of nearby locations, places your friends visit, popular places across the Foursquare network, places with great tips left by users, and other factors. You can also search for your own terms like "80s music" and "bratwurst" if you're looking for something specific or different from the standard categories.
Foursquare has also listened to a lot of feedback about its leaderboard for this release and given it a major overhaul. Checking into locations will now rack up points and badges for a number of different criteria, such as discovering new places, visiting new cities, getting groups of people together, hanging out with old friends, and a few surprises—all in the name of making it easier to rise up the ranks at locations and get motivated to venture further into your city.
The last major addition in Foursquare 3.0 is a big expansion of the Specials feature, which allows businesses to offer users special deals and other perks for checking in and remaining loyal customers. There are six new types of Specials that Foursquare elaborates on in a separate blog post, such as the Flash Special for the first people to check-in after a specific time, or the Friends Special if you and a couple friends check into a venue together.
To offer a few examples of Specials from Foursquare's post, Barnes & Noble is running a Flash Special in all its stores across the country on Friday (yes, iPad 2 day): be one of the first 10 people to check into a store anytime after 10 a.m. local time and you'll get $10 off a NOOK color. Check-in with a friend at a participating Whole Foods to trigger the Friends Special and you'll score a free cookie. Later in March, Coffee Bean will start a Newbie Special: all users who check into a store for the first time will get a dollar off any drink. Toys R Us, Applebee's, and Sports Authority are all on board for running new Specials of their own.
Foursquare 3.0 is available now in the App Store for free. You'll need an iPhone or iPod touch running iOS 4.0 or later.