Filmmakers, check your local iTunes App Store for listings: Apple's iMovie app is now playing everywhere. On Thursday, Apple released a major update for its mobile editing app, adding support for the iPad 2 and a myriad of new features.
iMovie now sports a completely redesigned interface, precision editing tools, new multitouch gestures, and support for multiple audio tracks, some of which were previewed at the company's iPad 2 event last week.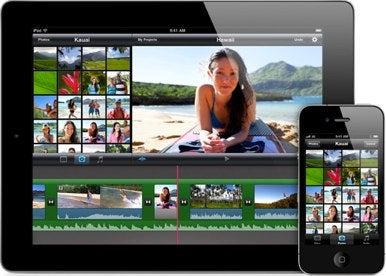 Originally released for the iPhone 4 last June and, later, the fourth-generation iPod touch, Thursday's update adds universal support for the iPad 2 (but not the original iPad, unfortunately). Thanks to the iPad 2's more spacious display, the redesigned iMovie interface largely resembles that of its desktop cousin, sporting a media viewer, preview screen, and traditional timeline contained within a three-pane layout (in landscape mode).
In addition, iPad users alone will get to take advantage of precision editing tools within the app—which allow for fine cutting between clips and transitions—and a toggle for viewing audio waveforms.
For further editing tweaks on any compatible iOS device, iMovie has incorporated an assortment of multitouch gestures for zooming in or out, splitting, trimming, and skimming through a clip, rotating video, and jumping through the project timeline.
Those hoping for audio improvements won't be disappointed: the app now supports up to three distinct audio tracks layered on top of an optional background audio track. For background tracks, users can draw from one of eight themes (three of which are new) or their iPod library; individual tracks can also incorporate songs from the iPod app or one of 50 new sound effects. Additionally, users can record an audio voiceover on the spot using their device's built-in microphone.
iMovie has added new and improved options for photos, too: the default Ken Burns effect has been supplemented with automatic face detection (though you can still set custom start and end points, if you so choose), and users can now overlay any photo with theme-styled title text.
Other features include new sharing options (Facebook, Vimeo, CNN Report), themes, and settings, as well as AirPlay support for movie playback. Last—but not least—users can back up and transfer their projects from their iPhone to iPad using the File Sharing viewer in iTunes. Sadly, unlike Apple's GarageBand app, iMovie projects cannot currently be transferred to the Mac for editing in iMovie '11.
iMovie is available for purchase from the App Store for $5; users who originally bought iMovie for iPhone wil receive this as a free update. The app is compatible with the iPhone 4, fourth-generation iPod touch, or iPad 2 and requires iOS 4.2.6 or later.