Editor's Note: The following review is adapted from Five Star Apps: The Best iPhone and iPad Apps for Work and Play by Glenn Fleishman. (2010, Pearson Education and Peachpit Press).
VLC is the universal video format player. It's free, easy to use, and open source. However, it's designed to run on a computer. If you're using that computer to put video onto a monitor or TV set to watch from a distance, it can be frustrating to manage playback.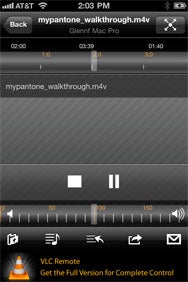 VLC Remote from Hobbyist Software pairs with VLC software using a bit of separately installed Windows or Mac software. The app lets you start, stop, and pick a playback spot. You can also adjust volume, and manage video playlists. The app features controls for remotely playing DVDs on a computer as well.
The software lets you browse the computer's hard drive to pick files to play back. For dedicated VLC users, VLC Remote is a good counterpart. A free version of the app features advertisements and limits you to playback controls.
[Glenn Fleishman is a senior contributor to Macworld.]