Reader Philip Henderson is anxious to have the latest iOS update but finds getting it slow going. He writes:
I have an iPhone 4 and a fourth-generation iPod touch. Unfortunately my home Internet connection is slow and the update is big. I have a much faster Internet connection at the office though. Is there any way I can download these updates there and then take them home?
There are a couple of ways to do this. First, you can take your iPhone and iPod touch to the office, jack them into your Mac (you do have a Mac at the office, right?), and then wait for iTunes to tell you that there's an update available.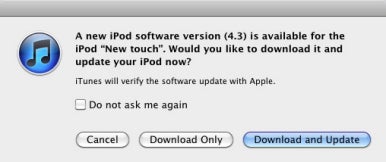 In this window you'll see a Download Only button. Click it and the update will download to the Mac but won't be installed on the device. (You can find the downloaded file by going to youruserfolder/Library/iTunes/ and then one of the Software Update folders—iPad, iPhone, or iPod Software Updates—depending on which device you've downloaded the update for.) Just copy this file to some kind of portable media, take it home, and add it to the same location on your Mac. When you plug your iOS device into your home Mac, you'll be told that there's an update available. Click Update to do just that.
Alternatively you can download the update files directly from Apple. You'll find them here:
It's the same idea. Once you've downloaded the files you want, take them home, install them in the correct folder, and update when you jack in your device.