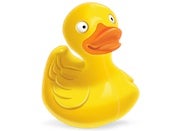 A new version of the open-source FTP program Cyberduck arrived this week. And while the marquee feature in Cyberduck 4.0 is Windows support—it's the first version of the application to run on Microsoft's OS—there's plenty for Mac users to get excited about with this update.
Among the major improvements in version 4.0 is support for Dropbox. In addition, Cyberduck can now connect to the Windows Azure cloud service. That expands Cyberduck's existing support for cloud services including Amazon S3, Google Storage, and Google Docs, among others. That's in addition to traditional file-transfer protocols such as FTP, SFTP, and WebDAV.
There are a couple of new Mac-specific features in Cyberduck 4, such as as the ability to upload files using a contextual menu in the Finder and an upload file option that appears in the Services menu, letting you upload files from some third-party applications.
A log of changes also details a number of bug fixes in Cyberduck 4. The application is free, though donations are requested. However, because the Mac App Store doesn't support donation-based applications, the developers have elected to make it available in the store for a fixed price of $24. If downloaded from the developer's Website, the program requires Mac OS X 10.5 or later—the Mac App Store version requires 10.6.6 or later. The Windows version requires Windows 7, Vista, or XP.