Every time you enter a feed, you're telling your RSS reader what you want to read about. But does your RSS reader really listen?
The developers behind Zite think they've come up with an app that's paying attention to what you want. The company's iPad offering, which debuted on the App Store Wednesday, is billed as the "first personalized magazine app," pulling its content based on the things you tweet about, follow, and otherwise express an interest in. And the more you use Zite, the better the app's idea of what you want to read.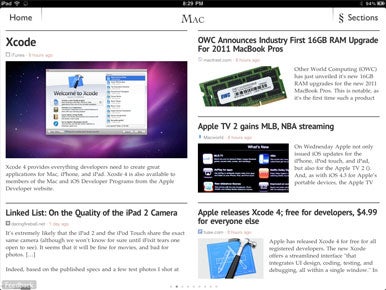 "Our goal is to be the ultimate content-browsing app that doesn't rely only on feeds," Zite CEO Ali Davar told Macworld.
The first time you launch Zite, the app will ask you to enter your Twitter or Google Reader account. (You have the option of entering both.) You can then select categories that interest you—Macs, sports, gadgets, and film and TV are among the three pages worth of options. There's even field for entering a category that may not already be listed among Zite's options. When you're done, Zite takes a few moment to assemble a magazine-style layout, complete with headlines and artwork, pulling Web articles that reflect the kind of content you've told Zite that grabs your interest.
(On Wednesday, the process was taking more than a moment, as the iPad app was having trouble connecting with Zite's servers. In an in-app message to users, Zite blamed the problem on high interest in the app at its launch and promised to work on speeding things up in the future.)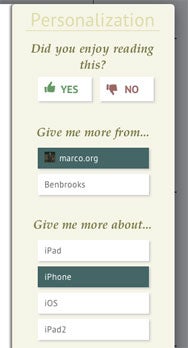 If all Zite did was pull down stories based on the kinds of things you tweet about, it wouldn't stand out that much from other iPad reader apps—most notably Flipboard, which aggregates news feeds along with your social media links in a magazine-style layout. The difference, Zite's Davar says, is that his company's app recognizes the stories you read, taking note of what sources you like, whether you prefer longer articles or shorter ones, or wether you favor news or opinion content. You can also explicitly state your preferences, giving a story a thumb's up or thumb's down in Zite and telling the app to pull more stories from a particular source. Future content on Zite will reflect your selections and choices. It's an approach, Davar says, that can push people to discover new content areas, instead of just going back and forth between the same links from the same sites.
"We're trying to overcome the information silo problem," Davar said.
Zite says it doesn't sell the information you provide to advertisers. And the iPad app is a free download. So how does the company plan on making money off its app? Eventually, Zite plans to incorporate advertising into the app; Davar says his company will even work with publishers to let them put ads in content displayed on Zite through an API.
For now, though, the focus with Zite is to provide an aesthetically pleasing app that also delivers personalized content to users. "The goal for us is to have the ultimate user experience," Davar added.