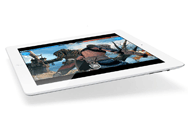 Early Thursday morning, Apple issued a press release reminding us all that the iPad 2 goes on sale Friday. The juiciest bit of new intel in the release is the fact that you'll be able to order the iPad 2 from Apple's Website beginning at 1 a.m. Pacific (that's 4 a.m. Eastern) early Friday morning.
Apple's announcement rehashes other information we already know—namely, that the iPad will go on sale at 5 p.m. local time at all 236 Apple retail locations, along with stores run by AT&T, Best Buy, Target, Verizon Wireless, Walmart, and select Apple Authorized Resellers.
The release also states that GarageBand and iMovie for iOS are available Thursday, though there's no sign of them in the App Store as of this writing.
The iPad 2's price will start at $499, and is available in Wi-Fi-only models, plus Wi-Fi + 3G configurations for both AT&T and Verizon's networks—and, of course, you have your choice of white or black models. Macworld posted its full review on Wednesday.