Editor's Note: This article is reprinted from InfoWorld. For more IT news, subscribe to the InfoWorld Daily newsletter.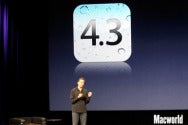 With all eyes on the iPad 2 that becomes available Friday at 5 p.m. in each time zone, Apple has released its iOS 4.3 update for the first-generation iPad, iPhone 3GS, GSM-based iPhone 4, and recent iPod touch models. InfoWorld.com ran the Futuremark Peacekeeper browser tests on a first-generation iPad with iOS 4.2 and with iOS 4.3 to see if Apple's claims of a turbocharged JavaScript engine were justified.
The answer is yes. The test ran 18 percent faster under iOS 4.3 than under iOS 4.2 on the same iPad, the 64GB Wi-Fi + 3G model, with a score of 508 versus 430. (Larger numbers are better.) Those results bode well for the iPad 2, which sports a dual-core A5 processor versus the original iPad's single-core A4.
For comparison, a single-core Verizon iPhone 4 running iOS 4.2.6 (there is no 4.3 update for this model) scored 482, while a dual-core Motorola Mobility Atrix 4G Android 2.2 smartphone scored 662 and a dual-core Motorola Xoom Android 3.0 tablet scored 897. A quad-core i7-based, 2011-model MacBook Pro running Safari 5 scored 2812, and a prototype Chrome OS "Chromebook" laptop scored 1310.
Of course, synthetic tests such as Peacekeeper don't necessarily reflect real-world usage, as each Website has very different code and thus may not stress all the functions in the Peacekeeper's repertoire. But such tests do provide a good baseline for comparing media-rich and JavaScript-heavy sites.
Note: When you purchase something after clicking links in our articles, we may earn a small commission. Read our affiliate link policy for more details.