Twitter's official Mac app, confusingly called just Twitter ( Mac App Store link), is a prime example of what I call the iOSification of the Mac desktop: It has no traditional title bar; it uses non-standard widgets for things like Close, Minimize, and Resize buttons; and it relies on unusual side-tab navigation. But despite abandoning so many standard Mac OS X interface guidelines, it works—Twitter for Mac feels a lot like its iOS sibling, but in mostly good ways.
Twitter for Mac makes it easy to navigate through threads of tweets and tweeters. For example, when viewing a reply, double-clicking (or pressing Enter or the Right Arrow key, or performing a three-finger rightward swipe on a trackpad) slides in a view, from right to left, of the full conversation. Perform the same mouse, keyboard, or trackpad shortcut on a tweet containing a URL, and the URL opens in your default Web browser. When you "back out"again—either by clicking the back-arrow icon at the top of the Twitter window, pressing Escape or the Left Arrow key, or performing a three-finger leftward swipe—the previous view slides back in from left to right. As you're navigating these views, subtle iOS-like sliding animations and hierarchical tabs provide clues for figuring out where you are.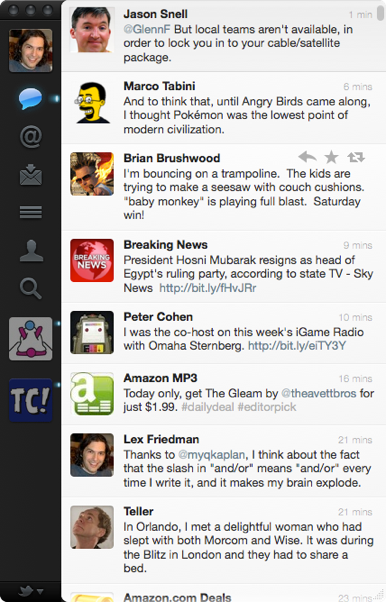 Those swiping gestures merit special mention. If you have a trackpad, you can use gestures to navigate almost anywhere within the app. For example, swiping up and down lets you navigate the current timeline. Once you master the program's gestures, it really begins to feel like you're using an iOS app on your Mac.
Twitter also makes it easy to work with multiple accounts. Each account's avatar appears in the app's sidebar; clicking one reveals icons for that account's main timeline, @replies, direct messages, and lists, as well as icons for saved searches and for accessing the account's favorites, profile, and recent messages.
You can even configure, for each account, different new-message notifications, including menu-bar-icon highlighting, Growl alerts, or a Dock-icon badge. Unfortunately, the Dock-icon badge indicates only that you've received new messages; it doesn't display the actual number. If you need that kind of fine-grained data, Twitter for Mac may not be for you.
For my purposes, Twitter for Mac is brilliantly designed. Were it useful only for navigating (and posting) messages on the Twitter service, that would be enough. But it's also a true delight to use. Some will surely never take to Twitter for Mac's obvious and dramatic iOS influences. For me, however, while Twitter's interface felt foreign at first, now it simply feels like the future.
Lex Friedman is a frequent contributor to Macworld.
Want to stay up to date with the latest Gems? Sign up for the Mac Gems newsletter for a weekly e-mail summary of Gems reviews sent directly to your Inbox. You can also follow Mac Gems on Twitter.