Thanks to the debut of the iPad 2, the past week has been relatively light in iPhone case news. But the new offerings are certainly worth your attention. Fisher Price's offering could turn your high-tech iPhone into the ultimate baby toy, while Let's Crystal It is on a mission to fill every square centimeter of your iPhone's surface with sparkly crystals. NXE is bringing kickstand cases back, while USBFever just wants to decorate your iPhone's home button. Read on to get the full scoop on this week's new cases.
Fisher-Price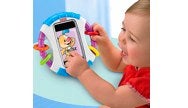 Toy-making heavyweight Fisher-Price is entering the iPhone-case fray with the Laugh and Learn Baby iCan Play Case ($20), set to ship in July. Meant to let babies enjoy their own apps while protecting their parent's iPhone (Verizon or AT&T) from drooly wrath, the durable, rubber case locks your iPhone in place behead a clear film, while providing rubber handles for your baby to hold. Fisher-Price also has a line of Laugh and Learn apps that feature baby-targeted educational games for your little one.
Let's Crystal It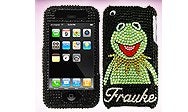 Let's Crystal It makes flashy, handmade iPhone 4 cases coated in Swarovski crystal elements. The company has designed crystal-coated cases for celebrities like Rihanna and Nicole Britt, and if you're willing to pony up the cash, you can get in on the sparkly action. A wide variety of case styles and designs is available, ranging in price from $24 for a sparsely decorated Pink Faceplate Cover to $360 for a densely coated Tattoo Design case. Let's Crystal It cases are available for both Verizon and AT&T iPhone 4 models.
NXE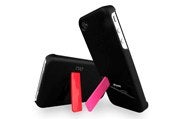 Lest you thought kickstand cases were going out of style, NXE is here to silence the naysayers with its new Recline case ($30). Available for the Verizon and AT&T iPhone 4 models, the Recline features a dual-orientation, flip-out kickstand and a soft-touch matte finish. On the inside of the case, a plush lining pampers your phone, keeping it free of scratches. The case allows full access to all iPhone buttons and ports.
SGP
SGP's CDMA Verizon iPhone 4 Screen Protector Steinheil Ultra Series ($14) is a set of two transparent films that fit over the front and back of your Phone, protecting it from scratches and scuffs. Designed specifically for the Verizon (CDMA) version of the iPhone 4, the films are easy to install and remove, block all UV rays, and don't cause any distortion or rainbow effects when installed.
USBFever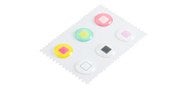 Okay, so this is hardly a case, but we threw it in the mix anyway. If you're looking to add a bit of flair to your iPhone on the cheap, USBFever's Home Button Sticker for iPhone ($7) lets you do just that. Actually a set of six, each Home Button Sticker adorns your phone's Home button, helping it stand out from the crowd. Each sticker can also be placed on the Home button of your iPad or iPod Touch, or on any other flat surface that could use redecorating—these are stickers, after all.
16GB iPhone 4 (GSM, AT&T)
Price When Reviewed:
$485
iPhone 4 16GB Black (CDMA, Verizon)
Price When Reviewed:
$499
iPhone 4 32GB Black (CDMA, Verizon)
Price When Reviewed:
$549
32GB iPhone 4 (GSM, AT&T)
Price When Reviewed:
$599