A memorable movie clip stays in the mind. Sony Pictures thinks it belongs on your iOS device, too. The entertainment giant has rolled out an iOS app dubbed My Daily Clip, which provides your favorite movies in bite-sized form.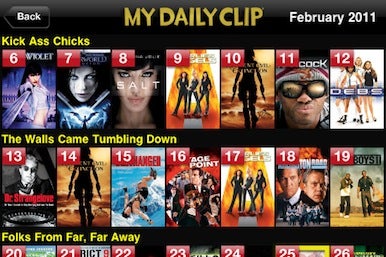 My Daily Clip does just what the title suggests. Every day you get access to a new clip from Sony's vast roster of films in every genre. Viewers can also search through special theme sections to find their favorite films in bite-size form.
The clips are delivered in high-quality video over adaptive streaming to prevent as few interruptions and unnecessary pauses as possible. The clips can also be shared over Facebook and contain embedded movie trivia games about the films you're watching. And if you'd rather watch the full movie, the clips link to a full downloadable version of the film in iTunes for rental or purchase.
My Daily Clip is available for free. It's optimized for all of Apple's iOS devices running iOS 4.2 or later.