At a Glance
Expert's Rating
Pros
Huge speed boost from previous version
Vastly improved support for HTML5
Useful new App Tabs
Cons
No H.264 video support in HTML5
Still lags Safari and Chrome in non-Javascript functionality
A few rendering hiccups
Our Verdict
Mozilla Firefox's flashy features often bogged down its performance—until now. Though it's still not quite as fast overall as rivals Safari 5 ( ) and Chrome, the leaner, meaner Firefox 4 makes a quantum leap forward from its predecessor.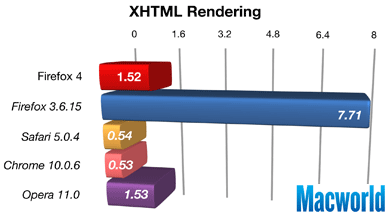 Fiery and foxy
Compared to version 3.6.15, Firefox 4 feels like a whole new browser. On a 2GHz Core 2 Duo aluminum MacBook with 2GB RAM, it benchmarked XHTML rendering more than five times faster, CSS rendering nearly 30 percent speedier, and JavaScript almost four times swifter. It also scored slightly better in the Acid3 standards test, and gained 100 points out of 400 in an HTML5 compatibility check.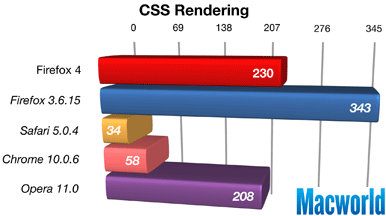 When pitted against Safari 5.0.4, Opera 11 ( ), and Chrome 10.0.6, Firefox's gains look more modest, but still commendable. Firefox scored slightly higher than Chrome and outpaced Safari and Opera by a wider margin to claim the crown in the SunSpider Javascript benchmark. But in XHTML rendering, it ran nearly three times slower than Chrome and Safari, and almost equal with Opera. Firefox considerably lagged all others in CSS rendering. While these gaps sound dramatic, the actual differences involved ranged from 0.25 seconds to one second, as the included chart of benchmark scores reveals.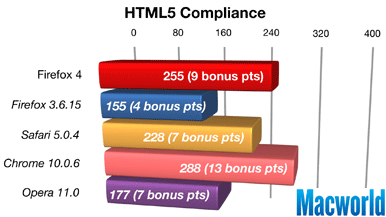 At 97, Firefox's Acid3 score still trails its rivals' perfect 100s; however, Firefox's 255 points and 9 bonus points out of 400 in HTML5 compliance trails only Chrome's 288/13 points, and solidly tops Safari's 228/7 and Opera's 177/7. And like every browser but Chrome (which scored a 37), Firefox 4 scored a perfect 41 in a CSS3 selector compliance check.
The good, the Add-Ons, and the ugly
Among Firefox 4's new interface innovations, I really liked App Tabs. They let you add frequently used Web applications (Webmail, Facebook, Twitter stream, or any other page) as space-saving icons that will appear every time you open a new window. App Tabs helpfully glow blue whenever they hold updated content.
A new Add-Ons interface moves management of your extensions and plugins to a well-designed, easy-to-use tab within the browser. I wish Mozilla did likewise for editing bookmarks, a function still banished to its own little window. In fairness, Firefox has moved all its bookmark-related features into a single handy menu on the bookmark bar.
In other minor changes, tabs now top the browser window, a la Chrome; you can jump to a tab by typing its name in the URL bar; and Stop and Reload now alternate as a single button. Miss the old interface? Customization lets you easily banish any of the changes.
Tab groups were the only new interface feature that left me cold. Click the palette button on the right side of the browser bar, and your screen becomes a big gray void engulfing tiny thumbnails of all your open tabs. You can drag and drop each tab into nameable groups, then double-click a group to open its contents en masse. This decent idea feels half-baked in practice. You can't move more than one tab at a time, nor drag groups of tabs in from the Bookmarks Bar. Thankfully, Mozilla made this feature unobtrusive and strictly optional.
A new Sync feature lets you share bookmarks instantly between computers. Firefox also offers a new don't-track-me feature that asks Web servers not to mine your personal information for customized ads. Mozilla and Microsoft have added this capability to their newest browsers, but for now, advertisers haven't widely begun to work with or respect it.
Fast-forward to the future
Behind the scenes, Firefox 4 packs another crop of improvements. Hardware acceleration makes browsing feel notably faster, although a Mozilla demo of 3D transformations on 2D objects still ran like molasses for me. The reliance on hardware may also explain why my laptop's fan occasionally kicked in after long browsing sessions.
WebGL support enables nifty, plugin-free 3D games and graphics within the browser. Improved OpenType support displays fancy fonts in all their glory. Firefox 4 now offers vastly more support for CSS transitions and animations. The browser also now plays HTML5 video encoded in either Ogg Theora or Google's WebM codec, though it doesn't support Apple's preferred H.264.
During this review, I only found one Web page that Firefox 4 rendered wrong, leaving a big white gap beneath the page's header. Your mileage may vary, but for me, it otherwise displayed site after site without a hitch.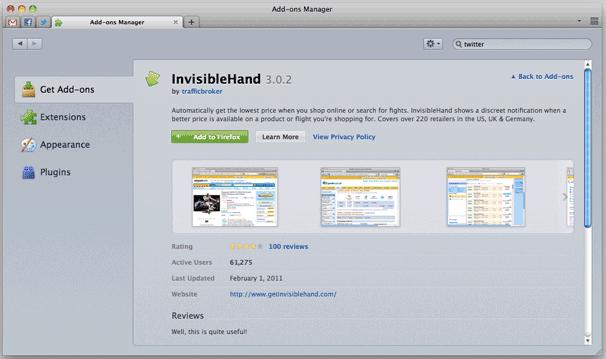 Macworld's buying advice
Firefox 4 isn't the fastest browser, and its interface still leans more toward wonkishness than elegance. But when loading and browsing, it feels far fleeter to me than the increasingly sluggish Safari. Firefox 4 offers fast, fun, full-featured browsing with few compromises, and it's well worth a try.
[Nathan Alderman is a writer, copy editor, and appreciator of red pandas in Alexandria, Va.]